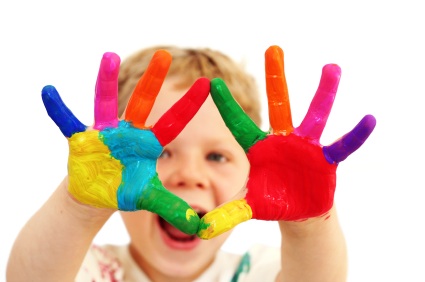 April has been a fine, fine month for our reviewing panellists as they've received all sorts of fabulous goodies to test. Every single item we've chosen for our Parent Panelists has been selected for its ability to stave off the monster called Boredom during the Easter break and SpottyGreenFrog offered us two superb ideas.
I received a Paint your own Gnome while Nickie (a fellow Mommy Blogger) got the Boogaloo Bird Bunk. Seeing as her product has the funkier name I think we should start there...

These nesting boxes are brilliant for catching the attention of birds in your garden and have the added bonus of being customisable by little hands. Each set includes a yellow and orange nesting box along with paints to make it shiny.
"The box is brightly coloured and you can clearly see the felt tip pens," said Nickie, "I think this is quite clever as some parents may not like their children using these types of pens so this way they can see everything upfront."
Nickie liked the fact that the nesting house was well constructed with sanded edges so nothing was sharp and potentially unsafe. She also noted that the packaging was easy to open and that everything worked straight out the box.
"The house itself is very well built and the pens did the job they were supposed to, but we felt it was a bit like colouring in on a differently textured surface," she added, "For the pen to stay on and to prolong the product I'd suggest it would have to be painted with a coat of clear varnish which would be an extra cost."
The Boogaloo Bird Bunk retails for £8.99 and when asked Nickie felt that while this would be a good one-off craft activity or as a present for another child, it was of average value for money.
"It's not too expensive and the price does suggest that it isn't cheaply made," she said, "I thought it was a bit expensive but I can see that the cost as gone into the workmanship as it is likely to last a long time."

My three year old daughter and I both got to review this chap – a paint your own gnome that just made me laugh from the moment I saw it. The box is really easy to open and comes with everything you need to paint this happy guy.
I was impressed with the overall quality of the product as well as the fact that I didn't have to hunt down a paintbrush, everything I needed was right there. My daughter almost fell over with excitement. This idea was a huge hit with her and most of her preschooler friends.
The paint pots are a little tricky to open so be careful – we nearly had a blue sofa – and the paintbrush does poof out after a couple of minute, making those tricky corners tough to paint. Still, when you're going to be painting a gnome with a four year old you can't expect anything to be "in the lines", can you?
The surface of the gnome holds the paint well and the paint rinses off between colour changes brilliantly. It also rinses off your hands, her face, her clothes and the rest of her body really easily too. I was very impressed with how easy it all was.
Our gnome took quite some time to dry, I'd say about six to eight hours, but now holds a special place on the fireplace. My daughter often takes him down and holds him while she watches TV or plays with her dollhouse so I can safely say he was a hit.
Retailing for £7.99, this is a good price for a quality product that guarantees several hours of fun. Another bonus is that you barely use the included paints so you have loads left to use for other painting projects.
And Finally
SpottyGiftBoxes have quite a few crafty products that will amuse parents and children alike. Both Nickie and I felt that the products we received were of a high quality and likely to last a long time. While the actual crafting won't take too long and can't be redone, the result can be used in fun and practical ways and will last for years as a memento. Definitely a good choice for gifts and a treat.