Review: Don't Rock the Boat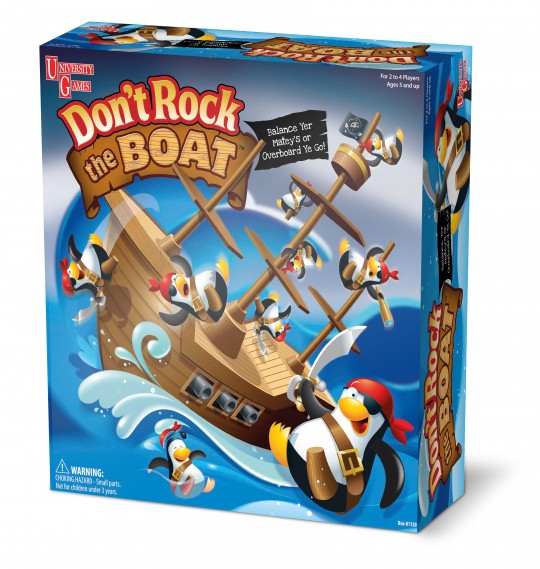 Winner of Toy Fair's Best New Game, Don't Rock the Boat was launched this summer by University Games. It's usually £14.99 at Amazon* but right now it's reduced to £11.24.
The press release says:
"This balancing game will keep children entertained for hours as each player takes their turn to carefully place their pirate penguins on the ship, trying not to tip it!  Logical and strategic thinking come into play if you want to be the last player standing. A fun game for all budding buccaneers!"
It's basically a variation on a familiar game - a bit of a twist on classics like Pop Up Pirate and Buckaroo.
Suitable for children aged between 5 and 12 years old, this can be played by 2-4 players and is particularly useful for helping kids develop numeracy skills and spatial awareness.
It comes with a set of 16 cute pirate penguins, and the object of the game is to take it in turns to see how many of them you can balance on the pirate ship without making it tip up.
My kids adored this game. Its appeal lies in the fact that it's basically a very simple concept - you don't need great technical skill so younger kids or less dextrous ones don't feel out of their depth. And after a few rounds everyone gets the hang of it, so there's no chance of anyone feeling left out. Every parent knows that playing board games with younger kids can be pretty fraught - especially with little ones who don't like losing - but this game creates a really level playing field where the winner is determined as much by luck as by judgement, so everyone seems to get equal turns at winning and losing.
The penguins are very cute and have good comedy appeal. They reminded us of the penguins from the Madagascar films, so we had lots of 'Smile and wave, boys, smile and wave' re-enactment which is always good for laughs.
My kids also enjoyed playing with the boat and the penguins even when they'd tired of the game - they lined them up to use them as dominos, and used them as play figures in games of everything from Star Wars to Disney Cars.
The one thing that would improve this game is a plank though - my kids were desperate to make the penguin who tipped the boat over walk the plank, which would be a fun addition.
We all really enjoyed playing this game. It's funny when the boat tips up and the penguins go flying in all directions, and everyone's sense of excitement builds steadily as you pile the penguins on the boat.
You can definitely see children's fine motor skills and concept of balance developing through playing this game. You can't be heavy-handed if you want to win, and their awareness grows of how to place the penguins to avoid making the boat tip up, and where to place them to increase the chances of the next player's go causing the boat to tip.
Don't Rock the Boat is also a useful game for helping to teach numeracy - you can count the penguins as you go - and for turn-taking. It helps that you don't have to wait a long time between each player's go, and even when someone 'loses' and the boat tips up it's usually accompanied by squeals of delight.
It's not all about trying to outdo your competitors either. Everyone particularly enjoyed trying to get all 16 penguins balanced on the boat too, which was a nice exercise in teamwork.
All in all this game has become a firm family favourite. The kids head straight for it on a daily basis and the grown ups enjoy playing it too. It's a fun and light-hearted game that would make an ideal stocking filler or Christmas present for kids aged between about 4 and 8 years old.
Pros Great fun, easy to play and good for helping with counting and fine motor skills.
Cons Not suitable for children under 5 - presumably because of the chances of them swallowing the penguins!? So bear that in mind if you're buying for a child with younger siblings.
Overall verdict We loved this - 9/10 as a plank would make it perfect!