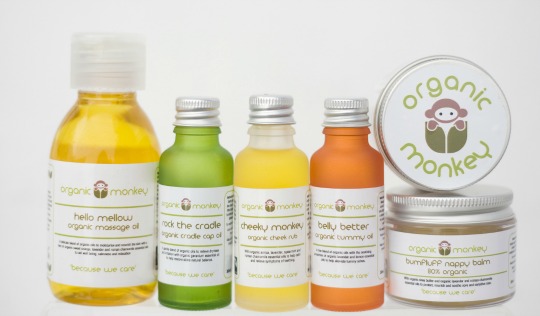 Set up by two entrepreneurial mums, Organic Monkey claims to the be the UK's first Fairtrade baby skincare range. After spotting a gap in the market for a truly organic range of baby skin care products, the company founders decided to incorporate the use of Fairtrade ingredients where possible too, providing a better deal for producers in developing countries.
We were sent two items to review. The first was the Cheeky Monkey Organic Cheek Rub for Teething (£7.50) which is marketed as a soothing blend of 100% organic ingredients, combining arnica, sweet almond, olive and sunflower oils with roman chamomile, lavender and spearmint essential oils. It's designed to be rubbed on the outside of an infant's cheeks to help calm and relieve irritation and redness during teething.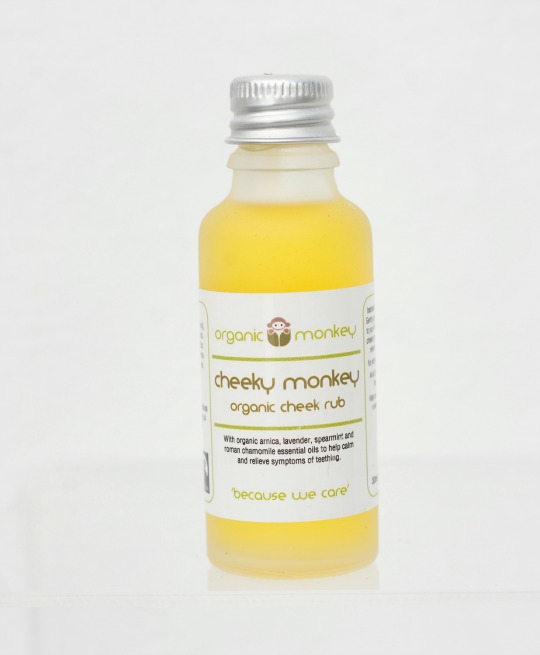 The second item we received was Rock the Cradle Organic Scalp Oil (£7.50) which is billed as a gentle, moisturising blend of organic oils including organic geranium essential oil, which is apparently good for helping to restore skin's natural balance. It's meant to be gently rubbed on a baby's scalp to help to soften and loosen the dry skin characteristic of cradle cap, making it easier to remove with a soft brush or dry washcloth.
Now I'm all for using organic products where possible and the fairtrade element of this skincare range particularly appeals to me, and yet I must admit that I'd never normally think about buying an oil-based to tackle routine baby rites of passage like teething and cradle cap. There are just so many well-known products out there that purport to treat these minor irritations, and oils aren't the first thing that spring to mind for me of those.
But these more than did the job. The Cheek Rub smells particularly divine and while I was dubious about how effective rubbing something on a baby's cheek would be at treating something that is essentially going on inside the baby's mouth, this really did help to alleviate the sore, cracked red skin that customarily develops when a little one is really suffering with teething. It actually became a bit of a miracle cure for all sorts of ailments in our house, and we turned to it to treat everything from patches of dry skin to minor skin irritation caused by grazes and spending a little too long out in the sun. It's a soothing, refreshing oil which seems to tackle irritation and inflamation and leaves skin feeling very soft and hydrated. It's not cheap but then a tiny amount goes a very long way - we've had this for weeks and used it liberally yet the bottle still looks full.
The Rock the Cradle Organic Scalp oil doesn't smell quite as delicious as the Cheek Rub does - it has a sharper and more pepperminty kick to it but it also does what it promises it will do very well. After just one use each on both a baby's cradle cap and an adult's dry scalp, both testers saw significant improvements in the condition of their skin. When it comes to cradle cap I tend to adhere quite firmly to the leave-well-alone school of thought but having seen what this can do, I would recommend it to a parent who wants to alleviate this condition for a baby. I'm  not sure that it's any more effective than natural remedies such as half a teaspoon of olive oil but the advantage of using this is that your baby will smell a lot less like something you're about to pop in the oven.
Overall I'd recommend both of these products. Their price tag means they might not be the first products I'd be inclined to reach for if I was looking for something to treat cradle cap or skin problems arising from teething, but then again they represent pretty good value for money given how long they last, and how effective they seem to be. They'd make an excellent, practical gift for any new parents struggling to help their littles ones deal with those conditions. If you're anything like me you'll find yourself putting these oils to all sorts of good uses beyond those they're recommended for, making them fairly indispensable little cure-alls that all the family have found useful.