Review: Hasbro Operation Star Wars Game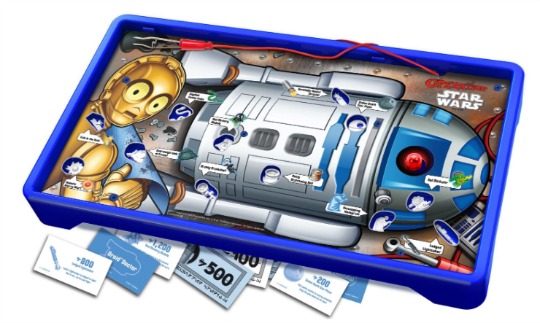 I recently purchased this Star Wars version of the classic children's board game Operation. We got ours from Amazon* - it was £17.99 at the time but I see it's currently on offer for £13.79. Not that I'm bitter but grrr.
ANYWAY. I purchased this game for my primary-school-aged children as a thank you treat for being such good big brothers to the new baby in our house, and in the hope that it would keep them occupied for short spells of time while I adjusted to taking care of a newborn. And boy am I glad I did.
The game was a huge hit. It follows the same basic premise as Operation except you use the attached tweezers to carry out repairs on R2D2, who is on the blink and needs your help. You can earn Galactic credits with every successful surgery, and you'll hear classic R2D2 phrases every time your tweezers touch his sides.
This also comes with a bunch of additional game cards which add another dimension to the game but to be honest we haven't even got round to using them yet - they'll probably help hold the children's interest if / when they tire of playing with this but I can't see that happening for quite some time to come - it's still the first thing they suggest playing with when they've got our undivided attention.
I'd recommend this highly if you're looking for something - a Christmas present maybe - for a little Star Wars fan. I particularly like that it's a game of genuine skill and I've definitely seen my children's hand-eye co-ordination improve as a result of playing with it.
It requires four AAA batteries and is suitable for children aged 8 years and older.