 Um, you might want to give this post a miss if you bought the Rosebud Dolls House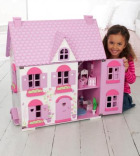 from the Early Learning Centre for someone for Christmas. Sorreee.
This cute, colourful, easy to assemble dolls house has fully functioning opening doors, windows, sweetheart shutters and an attic. Plenty of lifelike details and decoration will provide endless imaginative and inspirational playtimes.
The lovely large open-plan rooms have plenty of space to arrange furniture and keep little minds busy for hours and the attic is fully hinged providing an extra play space.
Don't forget to have a look at all the beautiful accessories that come in the Rosebud range, everything from room sets to riding stables to garden patio furniture and of course the adorable little family of dolls. Builds into an incredible fantasy home.
Furniture and dolls available separately.
Height: 69 cm - width: 60 cm - depth: 34 cm