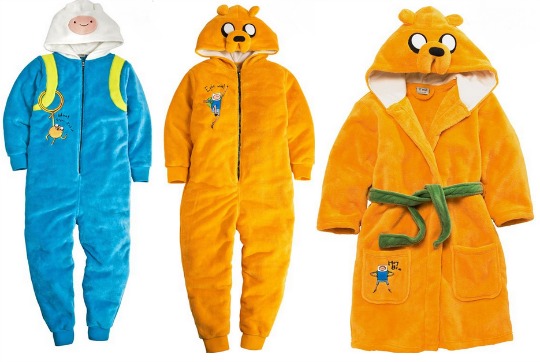 Adventure Time has been on the go for a good while now but all of a sudden it's popularity has spiked. So much so that iconic footwear brand Doc Martens snapped it up for a collaboration resulting in uber cool boots. For a much cheaper way to fuel your little ones Adventure Time obsession is to head over to the Next sale. It started yesterday, and even earlier for those of you that bagged a VIP slot.  There are three items that will make an AT fan go daft!
The Adventure Time Jake Dressing Gown* is to die for. It was £17 to £19 before the sale started, which isn't too bad a price and is now only £8.50 to £9.50. There are only three sizes left 10, 11 and 12 years old, but trust me older kids love Adventure Time as much as the younger ones.
With the Adventure Time All in Ones* you get to pick from Finn and/or Jake. These are SO very cool and they will get pulled out for every onesie party or fancy dress event at school. Judging by the sizes left, the Finn All in One has been more popular than Jake. Both are priced the same £10 to £13, reduced from £23 to £26.
Collect from your local store to avoid paying the £3.99 delivery charge.