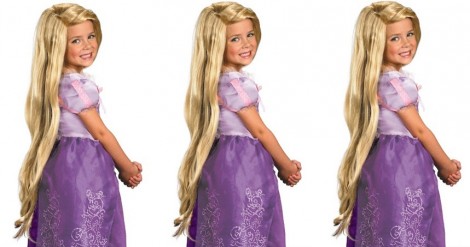 My daughter recently became addicted to Rapunzel thanks to the latest Disney Princess to hit the market in Tangled. She has spent the better part of the last two months wearing a blanket on her head, held firmly in place with a hat.
This has, obviously, caused all sorts of problems due to a) it getting stuck on the door, b) getting stuck under everybody's feet and c) picking up every last ounce of dirt as it drags by. So when I heard that I could nab an official Rapunzel wig off Disney for a mere £10 I was off.
The wig comes in a neat little box with care instructions that are really not difficult to follow. You can wash the wig, albeit gently, you can brush it and you can style it. It is utterly gorgeous and very cute. It also comes wrapped in a big hair net so you can store it safely when it isn't being used.
Now my daughter already has long blonde hair so this didn't look that odd on her. In fact, unless you looked really closely, it looked as if she had extraordinarily long blonde hair. When you look closely, though, you can see the sparkly strands that no normal child would grow.
The wig is easy to take care of and to maintain although, as you'd expect, it gets very knotty at the ends and you will get tired of having to pick them out with your fingers. Brushing is inadvisable as you'll lose hair that way.
Another down side is that there is this tied up bit in the front that only looks good for about three seconds before it gets hooked and scruffy. I had to remove it and retie it with some ribbon to make it look good. Overall this is an excellent purchase that has had a lot of mileage!