QVC Online Shop Philosophy And L'Occitane Collections Review

There are simply stacks of products out there all aimed at mums, or at babies, and it is really hard to know what is good and what is simply a waste of your hard earned cash. Which is why I love it when we get the chance to review these products, so we can see what they're really like. I'd love it even more if in fact the products could be tested by yours truly, but our policy here at PlayPennies is to have our lovely panel of parents road test items.
So, reluctantly, I had to give the scrummy toiletries we got from the QVC online shop to mum Jo to try out. Jo's baby son Ryan is just a few months old, and she's more than ready to start trying anything that will give her a bit of pampering and make her feel human again! Ah yes, I remember those early days all too well, when it was a plus if you simply managed to have the time to apply deodorant and brush your teeth.
Jo received five bottles from QVC:
Philosophy 3 Piece Holiday Sweet Shoppe Collection (£30).  One bottle of English Toffee and one bottle of Spicy Gumdrop, which are both shampoo, shower gel or bubble bath. One bottle of the Candy Cane, which is a foaming bubble bath and shower gel.
L'Occitane 2 Piece Mom & Baby Body wash Collection (£24.50). One bottle of L'Occitane body and hair, mom and baby cleansing gel and one bottle of L'Occitane ultra rich hand and body wash.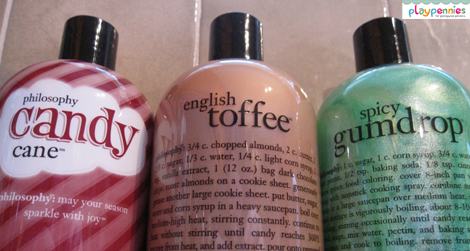 First of all, Jo decided to investigate the spicy gumdrop. "The green colour of the liquid is very rich and lush looking. I popped off the seal and had a sniff of the spicy gumdrop. It smelled delicious - good enough to eat. But I resisted the temptation to taste it! I poured it in the hot running bath water, and it created a lovely spicy sugary smell in the air. The bubbles were nice and foamy too."
Next she checked out the English Toffee flavour. The front of the bottle actually has a toffee recipe on it, which isn't the most conventional for a bottle of shower gel!  Jo found that the colour does look nice, creamy and toffee coloured, as you might expect. She's not a very big fan of toffee and toffee flavoured items, so  was a bit sceptical about the smell of this one.
I felt it smelled quite strongly of toffee, so I wasn't jumping with joy at the thought of it in my bathtub.
Jo couldn't really say much about the bubbles, it performs pretty much as you would expect in that department. It's personal taste, but she didn't enjoy the smell of this particular one.
Third,  the candy cane flavour. "This one smells beautiful, it is just my cup of tea." The Candy Cane product has hints of cinnamon. Jo found that it was a lot creamier than the previous two, so was actually a bit harder to make a lather. But the smell was just divine when this was added to the hot water.
For the above 3 products, Jo didn't try them as a shampoo on her hair, although she could have. "I just tested them as bubble bath / shower gel."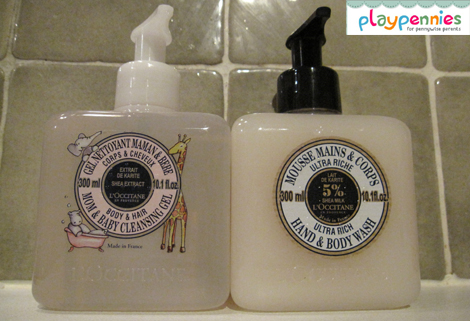 The L'Occitane mom and baby cleansing gel and the L'Occitane ultra rich hand and body wash both come in a dispenser type bottle, which is handy for popping on the bathroom sink.
The L'Occitane hand and body wash contained 5% shea milk, which sounded quite luxurious when Jo read it on the bottle. "I lifted out the spout to have a look and a sniff, and the liquid was very thick for a hand soap. It smelled very fresh and a bit "manly" to be honest." When she used it on her hands, it made a good lather then rinsed off easily. It didn't leave much of an after smell, which Jo was happy with.
The L'Occitane mom and baby cleansing gel looked quite syrupy when in the bottle. Jo said that she "liked the smell of this one, but I find it hard to describe. It also contained the shea butter extract, so that gives something to the scent. I'd say it was a clean smell, the kind of smell I would associate with babies." Upon washing her hands with this soap, it made a lovely light lather, again easy to rinse off. "It left my hands with a very nice scent, almost like that smell of a baby's head!"
And Finally ...
Some of the products in these collections are available on their own, or in a smaller grouping, on the QVC online shop site. Standard shipping on the site is £4.95.