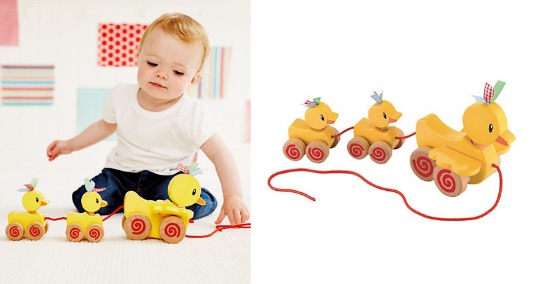 In the baby and toddler toy reductions at ELC is this cute little toy with a mother duck and two ducklings, and it's now half price. The Pull-Along Wooden Duck Toy was £15, and it's now down to just £7.50.
It's suitable for children from 12 months old, and when you pull the textured string the ducks waddle along with mummy duck flapping her wings, and the baby ducklings bobbing their heads along behind her. It's such a lovely toy with detailing like the ribbons on the ducks heads and the swirly markings on the wheels that spin when the ducks move.
This toy is designed to be stimulating and fun for babies and toddlers and to help encourage crawling and walking. We had a similar toy for my eldest, and I wish I could find it for my toddler as it was so lovely and such a good toy.
You can collect this Wooden Pull-Along Duck Toy from ELC stores for free, or home delivery charges are from £3.95.