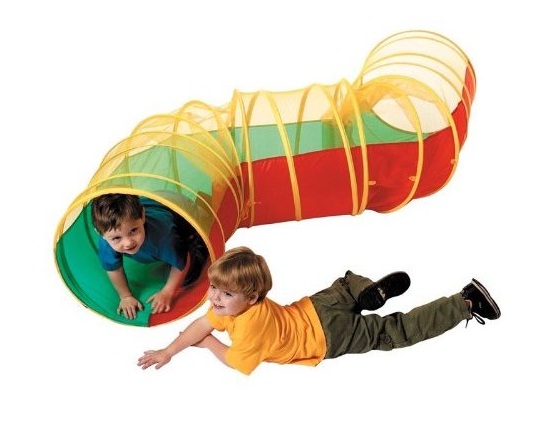 Mail Order Express has reduced the price of this Pop Up Co Zig a Zag tunnel down from £39.99 to £16.49. On Amazon, the same product is priced at £21.99. Definitely something to think of getting if your baby will be a toddler come next spring. Kids of all ages, but especially the younger ones seem to really love playing in tunnels.
If you have the space at home, these make great rainy day toys too. But they're especially useful for when you have whole days or parties or picnics at the park. When the weather is warmer that is (I think yesterday was our last day of summer, sigh).
For indoor and outdoor fun. Made from tough shower proof Polyester. The extra long length crawl anywhere tunnel for terrific fun. Bend it to go in a different direction. Great colours with see-through mesh. Complete with carry bag.
The tunnel measures 280 x 46 x 46 cm. I could only find one customer review of the toy, and this was on Amazon, The customer gave it a four star rating. "Grandson loves it so does the dog. Easy to put up and fold away, overall pleased with the fun factor and the quality."