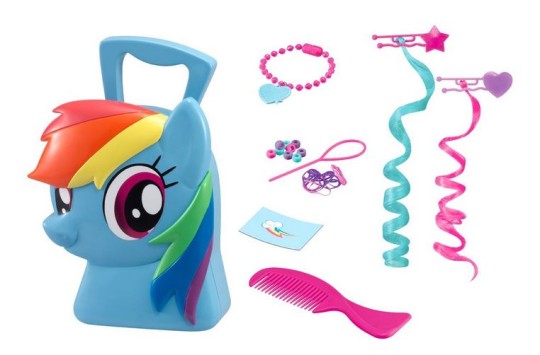 Amazon have up to 50% off a selection of toys, and this My Little Pony Rainbow Hair Styling Case comes in at £5.32, with free delivery when you spend over £10. The same this is £8 excluding delivery at Tesco, and £10 excluding delivery at Argos, so it's a great price, especially if you buy one for the gift drawer.
For Rainbow Dash fans everywhere, this is a must buy. In fact, my 5 year old just saw this and said I had to get it for her birthday (which is in six month's time!). The case comes with a bracelet, hair comb, funky beads, a bead threader and hair bands, transfer sticker and two special pony mane hair clips.
It's not the biggest or best set in the world, but for fans, that won't matter at all.
In fact, it's the kind of thing that could help a whole lot with a reluctant hair brusher, letting the excitement of Rainbow Dash take their attention off the brush for a moment or two.