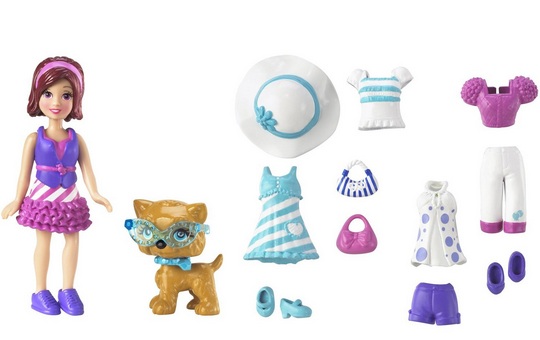 My daughter loves Polly Pockets and this is one toy I am inclined to agree with her about. The reason? Not only are they good value for money, but they can be used in the bath, on long road trips and with all sorts of smaller toy sets, including Lego cars and houses!
The Polly Pocket Pretty Packets Lila Fashion Bag and Accessories pack is £12.99 on Amazon* at the moment, but I got it for £5 when they did a random sale a few weeks ago. I advise keeping a beady eye on it so you can also net a great deal.
In the set you get a doll, a cutant (a weird mutant pet that often sparkles), a bunch of accessories that Polly can change into and a storage carry bag. Now the down side of Polly Pocket is that younger kids have a heck of a hard time getting the clothes on and off. Actually, adults do too. The sound of, "Mommy can you…" whenever my daughter is playing with her Polly Pockets fills me with dread. It means I have to spend five minutes wrestling plastic.
The dolls also have a fairly limited life if they are played with regularly. We have had the head attachment shear in half on one doll and the arm snap off on another. That said, however, the set has so many extra pieces in it, and there are so many clothing variations, that it is worth every penny.
If you are looking for a sweet and entertaining toy for kids over the age of four, then take a peek at the Polly Pocket ranges available. Some of them, like the Race To The Concert Playset, have been reduced by as much as half price.