Playmobil Advent Calendar Dinosaur Expedition And Santa Claus With Snowman Review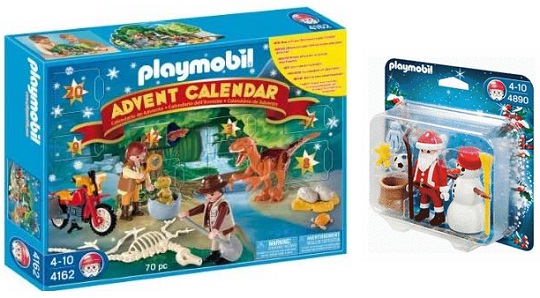 The Playmobil Advent Calendar Dinosaur Expedition (£14.99). You should buy this. There that was a nice and easy review wasn't it?
Seriously though, I got one of these for my six year old son last year. This was one of the ones that our PlayPennies mums reviewed - the Playmobil Dragon's Land Advent calendar. We also reviewed the Playmobile Unicorn in Fairy World Advent calendar.
My son loved it, and he still has the cardboard scenery that came with it. The scenery and the toys have been well played with. He was so proud he told everyone in the school playground that his Advent calendar didn't have chocolate it had TOYS! Which made me feel like a bit of an uber-mum.
This year he is getting the Playmobil Advent Calendar Dinosaur Expedition. Now it isn't the 1st of December yet, so he hasn't actually used it as an Advent calendar. We have got out the scenery though, and that's all at the ready. As before, the set was easy to assemble, and although the cardboard looks thin, it is as sturdy as last year's.
I have opened the box, to check out all the toys. This is something I'd do anyway, to avoid any surprises (like a toy being broken, or something that needs to be put together first). Also it means you can move around some of the toys if you want your wee one to open a favourite earlier on!
Then reseal the box. You don't actually get 24 toys, but a toy 'set'. Some of the dates contain, for example, an accessory for one of the figures. Or the other part of a toy - the 22nd of December has a dinosaur egg nest, but you don't get the eggs for it until the 23rd of December (actually I swapped those around).
I also got a Playmobil Santa Claus with Snowman (£5.99). I thought this was particularly good value as you get a Santa, a snowman, and a toy sack with little toys. The football has already disappeared, but the rest of the set is part of our annual Christmas scene that we put up each year. Sorry, we're heathens so it isn't strictly a manger scene (and I don't think there were any snowmen in the bible).
Overall verdict for the advent calendar is 7 out of 10. It would be more like 9 out of 10 if it wasn't that a couple of the 'gifts' are rather measly. Playmobil Santa gets 10/10, just for the fun factor alone!