The Petite Harumika Review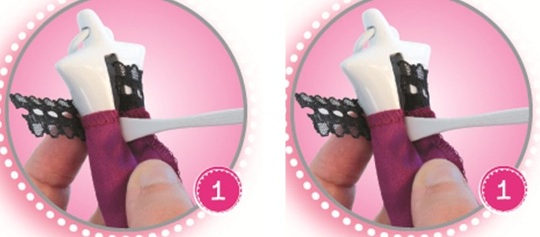 Last year I reviewed the awesome Harumika range of toys that are brilliant for encouraging creativity and independent play. My daughter really enjoyed the kit but it soon lost most of the pieces and slipped away, forgotten, in a drawer.
Then the Petite Harumika kit arrived and she fell in love all over again. And this time the passion hasn't faded. It is almost as if the tiny version is more appealing to her five year old senses.
Harumika is aimed at girls and is very popular with budding fashionistas who like to make, remake and make all sorts of different designs. There is no sewing needed as the miniature dress form – the doll, if you will – has a slot down the back into which the fabric is pressed to hold it in place.
The Petite Harumika kit comes with a 7cm miniature dress form on a key chain (this has been hung proudly from my daughter's backpack on more than one shopping excursion), a stylus tool for slotting the fabric into the back, one piece of material, four accents, and a sheet of gem stickers.
What I really like about this kit is that the stickers are fairly robust. You can restick them several times before they start to lose their grip so you can create a wide range of looks before they give up the ghost. My daughter has shown me some sterling creations that honestly amazed me, and continues to spend happy hours pootling around with the fabric.
Of course, the fabric and stickers from the larger Harumika kit have been added to create some impressive ballgowns too. For £7.99, I think that the Petite Harumika kit is expensive so it would be a special treat or present rather than a fun, impulse buy. However, it is robust, re-usable, fun, and very sweet indeed.