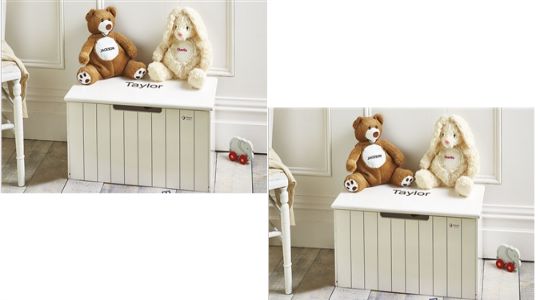 Studio have contacted us with an update : This was a pricing error. The item is now out of stock. Studio have informed us that they will be honouring all orders at the lower cost whilst stock was available but once the item is back in stock the item will return to the normal selling price.
There's a magnificent glitch happening at Studio. You can get the Personalised White Panel Toy Chest for just £3.99 plus £4.99 delivery (£8.98) instead of £24.99 plus £4.99 delivery. All you need to do to get it at this price is to add it to your basket and you will see that it is £3.99 at the checkout. To Personalise add to basket then in the basket press change! 
The only downside is they do a Credit Check on you when opening an account so bear that in mind.
The Personalised White Panel Toy Chest was originally £49.99 and has been reduced to just £24.99 but for some reason it's now down to only £3.99. It's a great glitch, so be fast if you want to be in with a chance of bagging one.
As with any glitch that we share with you... there are no guarantees that Stud1o will honour this incredibly low price but it can be worth a try.
Thanks to bec8605 @ HUKD