Peppa Pig Playtent With Car £15.00 @ Boots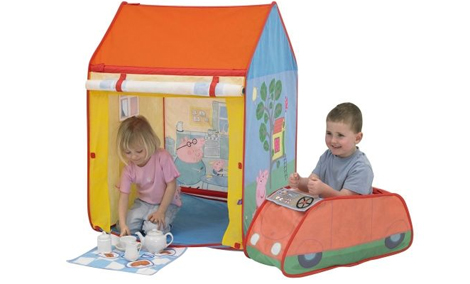 Boots Online has a great offer on a Peppa Pig playtent with a pop up car and playmat available for £15.00, a whopping 50% less than other online retailers.
As a child we used to rearrange the lounge furniture to move the sofas back to back and hang a sheet between them to make a tent. We spent many hours in these forts, much, I'm sure, to my mother's annoyance – especially when visitors dropped by.
These great little Peppa Pig pop up tents and cars are a wonderful solution for those who prefer to keep their furniture in place, providing a backdrop for imaginative role play. As each set has three different parts, it is also useful for encouraging the principles of sharing, taking turns and playing together. And if nothing else, it keeps all the children happy at the same time.
Combined with 60 Boots Clubcard points and the option of adding two other 3-for-2 Mix and Match items, it's almost crazy not to grab it while you can! And while it can be delivered free of charge to most Boots stores, even with the optional extra £2.90 home delivery charge it's still a steal compared to the £30 price tag at Amazon.
With thanks to clgay at HUKD