Peppa Pig Girls' Mac £7.60/£8.74 @ Very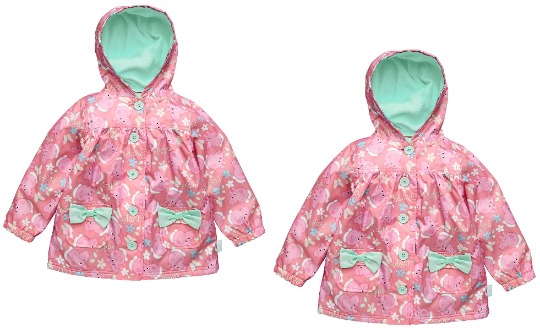 A lightweight mac is one of the handiest things a person could own. You can stuff them under the pushchair or into your changing bag without taking up too much space. The weather is just so interchangeable, even in the height of summer. Think of those days out where it seemed like a glorious day when you were leaving the house, then got to your destination for it to be piddling it down with rain. You need the Peppa Pig Girls' Mac....now only £7.60 or £8.74 (size dependent) from Very.
The Peppa Pig Girls' Mac is an absolute must for any little Peppa fan. It's bright pink with that cheeky little piggy's face all over it, plus two pale blue bows at the top of the pockets.
There are two prices dependent on what size you require: The 12-18 months and 18-24 months one is just £7.60 and the older sizes are 4-5 and 5-6 years at only £8.74. The original price was £20-£23 so this is a bit of a bargain.
It is hooded and it has a fine fleece lining so it has a bit of warmth to it if required.
You can use Collect+ for FREE or pay £3.95 for home delivery.