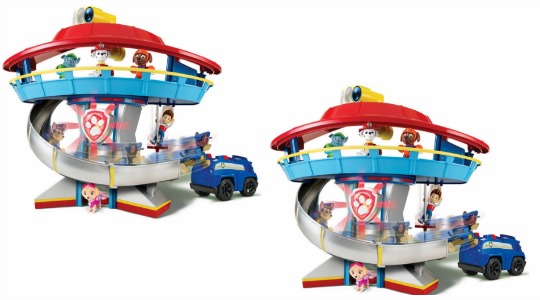 We can't tell you if the Paw Patrol Lookout Play Set is any good or not, but if it's on your child's Christmas List then you are going to buy it regardless. You had might as well avoid paying the usual £45 (approx) for it and head over to Amazon where it is now only £29.19, with FREE delivery. Paw Patrol couldn't be more popular right now, so lap up any savings you can get now before they increase the prices again.
The Paw Patrol Lookout Play Set is the super cool Headquarters of the Paw Patrol and features a real working lift, lights and sounds. Oh plus a cool working periscope and wrap around slide. Oh plus your child can keep an eye on everything as this spins 360 degrees.
As well as the Lookout itself, you get Chase action figure and his police vehicle.
This has one star on Amazon, but worry not, it does have around three to three and a half stars elsewhere. The reviews aren't too bad if you Google this set. It's mostly people saying it isn't worth the money and at £45 perhaps it's not, but at under £30 it maybe is.
Thanks to Emily on our Facebook Page!