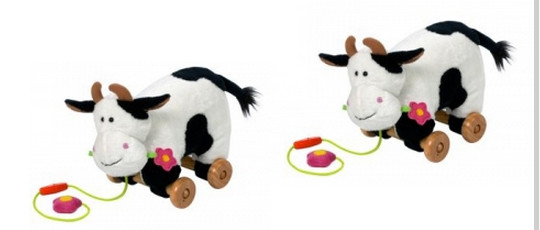 For my baby's first Christmas, I bought her the Daisy Pull Along Cow from Orange Tree Toys. As it happened, she took her first steps on Christmas day, and within a few weeks was toddling around confidently. For £13.61 Daisy the Cow is a really good buy.
Initially you can remove the rolling wheels which are held on by Velcro loops, and half of the pull string, turning Daisy into a soft toy. Add the two sets of wheels and the other half of the pull chord, and you have yourself a pull along toy. It's really very lovely.
The only thing that annoys me about this pull toy - as with a couple of others we have - is that the chord isn't actually long enough to do much with. You have to add another bit of string to it for my children to be able to hold onto it and have it touch the ground at the same time, which I think is a bit weird.
The other bonus of the removable wooden wheels is that the soft toy part can be washed, which is a huge bonus for a cuddle-slash-pull-along toy.
There is a little bell or something inside the cow so it has a slight jingle and it is very soft and extremely cuddly and friendly and both my girls have enjoyed it, but it is essentially a soft toy and now that my daughter is walking properly, she's less excited about pulling things behind her. It's a lovely little gift though and I don't regret buying it, and would happily give it to someone else as a gift too. There are a lot of other similar themed pull along toys to choose from too, if cows aren't your thing.