Most kids don't take long to latch on to a favourite cartoon or story character, and in my daughter's case that "silly old bear" Winnie the Pooh has been number one practically since birth.
So I was more than happy to test out some of Nuk's Winnie the Pooh-inspired feeding products, even if young missy was really too old for them and had to share them (grudgingly) with her younger sister.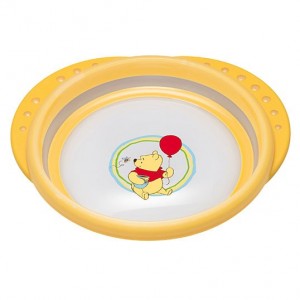 Nuk's Disney-branded range covers various bottles, soothers (or dummies), plates and bowls, and you can choose between either Winnie the Pooh or Mickey and Minnie designs, with both styles offering further choices of several bright colours.
We got to test out the 150ml Winnie the Pooh Learner Bottle in red (RRP £5.99) and the yellow Winnie the Pooh Feeding Plate (£9.99) and the soothers.
Now it's fair to say that in every case you're paying a fair bit just for the licensing rights, so in return it's also fair to expect a high level of quality, both in the products themselves and in how well they capture the "magic" of the characters they're showcasing.
And thankfully, I had no complaints with Nuk's Pooh-themed offerings. They're already colourful, well designed and well made on their own, and the addition of some licensed branding accentuates rather than overpowers.
The Learner Bottle in particular was a favourite. At 150ml it holds half as much as your standard long bottle, which makes it light enough for smaller arms to lift. The chunky rubberised "training handles" are attached to the plastic base, which itself has a grippy rubber ring around the bottom to prevent slippages and add stability.
Those handles sit naturally in any baby or toddler's hands, and because they're only attached at the bottom, there's a little bit of flex in them so junior can flex and pull them a little.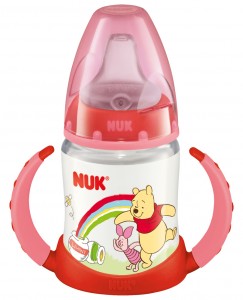 The silicone spout is non-centred so your child doesn't have to lift the bottle as high to drink, and the small air vent allows for easy flow.
The training plate is equally well thought out, with a sloped rim to help you stand a chance of avoiding the bigger dinnertime messes that seem inevitable with young ones, and an anti-slip grip and base to stop the whole plate from moving around too much.
We didn't use the dummies at all, and I really have no means of comparison, but they look normal, and nice and good quality too. I gave them to a friend and she was grateful for them, and I've seen her little one using them too, so at least they've lasted a while.
Usefully, the plate comes with a sealable lid, which helps keep food fresh and away from probing fingers when it's not time to eat. Despite the larger surface area, the Winnie the Pooh branding is actually quite subtle – more so than with the learner bottle – and that's not something you can normally say about commercial tie-in products.
Again, you normally pay for the tie-in, but in fact a check on Nuk's website reveals you're actually not paying that much. The normal 150ml trainer bottle goes for £5.40, which is just 59p less than the Winnie the Pooh (or Mickey and Minnie) version.
For the cute and colourful designs, plus the smiles that's likely to put on young faces, that doesn't seem too bad.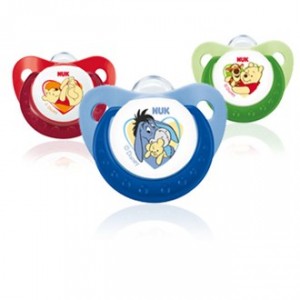 The Good
There's lots of good about these products, really:

They are good quality and nicely made

They're made for their audience - they're small enough for little hands, not too heavy and nicely shaped to hold
The Bad
Like with most of these things, it annoys me that the lids are normally lost by the time we get home on the first day. I wish they could attach the lid to the bottle somehow. It really bugs me. There's a lid heaven somewhere, and most of the sippycups and bottles we have ever owned have a part laughing at us from bottle lid heaven.
The Verdict
These are lovely. They're not too expensive to be bought for your own child, they don't look too cheap to be bought for a gift for someone else. They're practical, cute and my kids love them.