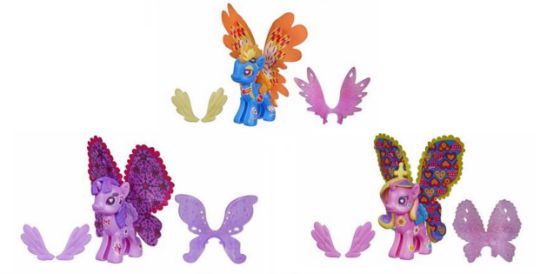 Asda George online have some limited toy bundle offers, and this My Little Pony one is a fab deal. They have a My Little Pony 3 Pack of Pop Winged Princess Ponies for £17.98, which works out at a fantastic £5.99 each! Considering these toys are normally between £9 - £14 a time this is a huge saving.
In this pack you get three different Winged Princess Ponies - Cadance, Sparkle and Spitfire. Each of these has can be decorated as you wish, with a choice of wings to add on, hair and a tail to add, and then a sheet of stickers to decorate them.
It's not clear from the description whether this comes in separate packs so that you could split them into separate gifts, or whether they all come in one box, so if you were planning on splitting them up you need to keep that in mind.
You can click and collect this My Little Pony 3 Pack Of Winged Princess Ponies from Asda store for free, or home delivery will add £2.95 to your order.