Munchkin Baby And Toddler Bath Toys Review
The US brand Munchkin Inc has launched its range here in the UK. In America, the company has been designing and creating baby and toddler products for more than 20 years. While the website has a UK address, it is still mostly the US site. When I tried it, I found that the 'Zip Code' store finder didn't work with UK postcodes, and the online shop is in all US dollars. With that in mind, I've included links to UK stores and prices below.
Bath Toys
Always interested in new toys for the little ones, PlayPennies was able to get some products from their bath time range to try out. Specifically the Star Fountain, Sea Squirts and Wet Wheels. I gave them to energetic mum of one Teresa, to try them out and see if they were as good as they looked.
Teresa started with the Star Fountain, priced at £5.99 at Safe Tots. This toy is described on the website as a water fountain for the tub. It floats, spins, and sprays water from mini jets that glow with a blue light. Which all sounds very exciting, so how did that work out in real life?
Initially, Teresa was rather worried as you have to put batteries in it. Her husband was also surprised that it was meant to go in the bath with the child. "The compartment didn't even feel that super water tight either. Needless to say our fears were unfounded as this dude didn't explode or electrocute me (I put my hand in first) or anything else."
The toy has a tiny little button in the bottom right-hand corner that you or your kids can press down. When you do this, water squirts out of its front in a little fountain. "It's really cool and my daughter loved it," says Teresa. However, you can just feel that 'but' coming. "And this is a big BUT. The button is incredibly hard to press.  I had to hold the star with my left hand and then use all my strength to press it with my right thumb."
This meant her daughter couldn't play with it by herself. Even her husband struggled with it. Teresa then found another design fault, although it isn't certain whether it was integral to the toy itself or a fault just with her toy. "The box and the site say that it will float, spin and spray like a mini jet that glows with a blue light. I assumed this meant that you pressed the button and then
it did this all by itself until you pressed the button for a second time. Not in our case. Ours didn't do anything unless the button was held down all the time. Perhaps it was broken? I know we all tried to get it to work and nobody had any luck at all. It's a real pity because we all LOVED the idea of a little glowing, spinning water fountain."
The Wet Wheels toy (£4.99 from Safe Tots) Teresa received was the Turtle character. There's also a Dolphin according to the website. Both will float in the water and roll about on land too. The dolphin and turtle characters have a clear window on their back filled with mini sea creatures, and the wheels are filled with beads for visual stimulation and cool sounds. The body is also soft, so little hands can grasp and play easily.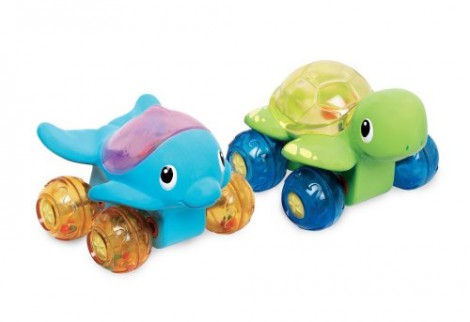 "This toy was a huge hit." Teresa enthused. "My daughter drove it all over the bath. It even took on the role of Bullseye in her game of Toy Story. This is a very sturdy toy and definitely won massive kudos in our house because of its ubiquity. You can play with it outside the bath as well as in, and it has been dropped, stood on, hidden, thrown and dunked without so much as a scratch."
Finally Teresa received a bag of Sea Squirts. These were a huge hit with mum. "I love these. LOVE them. They are so cute and everyone has fun with them." You get a set of five different squirts, which include a pelican, an octopus, a crab and a dolphin. Her daughter had no problems filling them up and squishing them and the crab was soon renamed Jessie for all her Toy Story games.
"The only thing that freaks me out a bit with toys like these is the yucky water staying inside them and one day you squirt out goo. So I recommend
squirting out every last ounce of water from all of them after each bath. The design of the crab does make him a prime candidate for dying fairly soon though as you can't get the water out of his feet properly. Still, these guys are still going strong after almost two months of bathing and there is no colour fading or breaking."  She was also impressed with the price of £3.99 found at Safe Tots.
And Finally ...
The Wet Wheels and the Sea Squirts are fantastic Christmas stocking fillers or
pressies for either your kids or other people's kids, seriously good fun.If the Star does work, and it was just ours that was broken, then it is a fab idea.