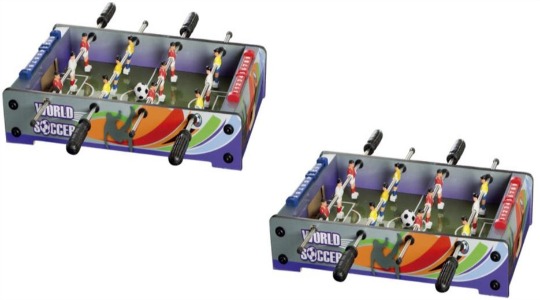 Table football is great fun for older kids and it's something competitive to get them fighting over. I am starting to scratch my head when it comes to buying presents for my two eldest boys. As soon as I saw this Mini Table Top Football Table from Tesco Direct, I thought...great idea for their birthday or I may even substitute the Easter eggs with one. Get this, this specific World Soccer Table is reduced from £20 to just £6 at Tesco Direct, so it's even cheap enough to stick in that party presents box.
The Mini Table Top Football Table is an 18" one, so it's fine for sticking on the kitchen table. Games like this are a fine change from the Xbox or the Playstation and are particularly good when you have had a beer. I mean for us adults of course.
The team are six a side and the handles are easy grip. You can keep record of the score with ease as it has built in scorers.
It's the Easter holidays soon which means lots of moaning about boredom. See their faces when you pull this out. They will be entertained for hours.
You can collect it for FREE from your local Tesco store or pay £3 for home delivery.