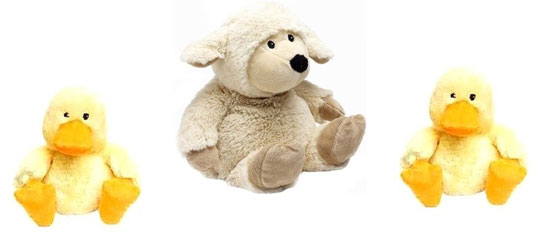 If you're looking for something warm to cuddle up to then you could do worse than take a look at these fabulously cute microwaveable teddies on sale at Amazon at the moment.
I don't think you can beat a microwaveable teddy!  I'd have loved to have one or two of them when I was little - they didn't have microwaveable teddies in those days, mind you they didn't have microwaves in those days either.
All of my children have them - the teenagers still have theirs (my daughter still uses hers) and my youngest son has two: Smelly Hippo and Smelly Lambkins.
Smelly Lambkins is very cute and you can have your very own because THIS is him. The other microwaveable teddies that are included in this little Amazon round-up are okay, but they're not as gorgeous as Smelly Lambkins.
The prices vary depending on which microwaveable teddy you choose, but the cheapest is currently around the £7.50 mark.
Microwaveable teddies don't just have to be confined to bedtime either - they make lovely warm friends for little ones to cuddle on the way to school, or on the way back from visiting friends and rellies in the car on chilly winter nights.
There's a microwaveable teddy here to suit everyone, I'm sure - there's even a microwaveable Bagpuss!