Micro Scooter And Accessories Review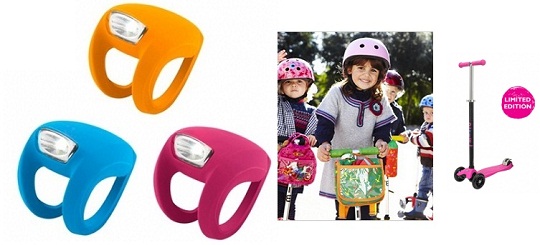 All I want for Christmas is ... Chances are a lot of kids are going to have a micro scooter on their list of Christmas gifts. My son has one, and I can't think what I'd do without it. When we're out it keeps him going in a straight line, it has a lot of entertainment value when at the park, and is perfect for day trips.
Invariably there's acres of walking to do where-ever we go. Just getting from the tube to the Natural History museum is a trek! So he doesn't get tuckered out too early, and for the trip home again at the end of the day when we're all tired, the micro scooter means I don't have a whiny child. He can stand on it, and it is effortless to pull along. Oh, and I can hang my bag on the handle too.
Even if it isn't for their main Christmas present list, Micro Scooters sell a number of accessories as well. Handy for stocking fillers and as smaller Christmas gifts.
So I was thrilled that we'd get a chance to review some of these. Always good to be able to pass on relevant and practical buying information for our parent readers. Sadly (for me) we don't get to keep this stuff, but you can read on to find out what we found heart wrenching to send back, and what we were more than happy to return.
Maxi Micro Scooters Ages 6-12
A scooter has Christmas present written all over it really. The Maxi Micro Scooter (£92.95) is the next step up for the young adventurer, but it still has the lean steer mechanism and the double front wheels. Considering how many older kids, and kids aged 6, have only two wheel scooters I honestly wasn't sure about this.
To start with I thought that learning to ride on two wheels would be better for balance and co-ordination, whereas this was just a older version of the 'little ones' scooter designed to cope with the taller kids and that's it. However, I found a little girl, aged 8, to test it out for me and promised to keep an open mind.
The scooter was remarkably easy to construct. This is one enormously good point in the company's favour I think. Instead of spending ages with allen keys and all sorts, you just slip, lock and twist and you're done. When I think of how busy I am and how disinclined I am to spend ages working on a scooter, this gets very high marks in my books.
In fact I give ease of use a powerful 10/10.
Next up is the adjustable height. This scooter offers you a simple pull lever to adjust the height, pull the lever out, pull up the handlebars, lock the lever back in place. Now this is very simple to do but my scooter was flawed. The handlebars keep slipping down regardless of how often I redo the lever. Another little girl has exactly the same scooter but hers does not have this issue, so it is probably just a one off problem with mine. To be fair here I didn't spend time fiddling with the bolts at the point of the lever to see if tightening them would change the issue.
The rest of the build gets high marks from me. The scooter is very sturdy and reliable and the base has withstood being dropped, kicked, bumped and stored away on a regular basis. It is still in good condition as the plastic seems to withstand a substantial amount of abuse. You get free stickers with the scooter so kids can decorate and personalise them - a nice touch. The stickers aren't that great really but our tester loved them. However, she refused to stick them on her scooter because she didn't want them "messing it up".
Earlier I mentioned the three wheel issue. Now, in my case this was moot because when I asked our tester if she wanted to get a two wheeler, she went white and panicked. It scared her. She had seen so many kids at school wiping out (usually due to bad driving though) that she was scared of them. So, for her parents, this was a great step up to help her build confidence.
I particularly liked the silver back brake that is bigger and more easily accessible to little feet.
Overall I would say that the scooter gets 8/10 for looks, style, durability and doing what it should. Points are lost due to the handlebar issue and the price.
Micro Scooter Micro Bags
These Micro Bags (£14.95) are very easy to install and can carry no end of weird tat for kids. Which got me interested - something that could be both a Christmas present, and practical?
It isn't very big though, so don't expect to fit a teddy bear inside. This one is tough to review really because on one hand I think, yes excellent storage for all the little knick knacks that kids insist on carrying with them, but on the other hand I think this can be done a lot cheaper. So what you are paying for here is an accessory that is designed specifically to fit on these micro scooters so it won't fall off, it will fit properly, and looks fab.
What I liked: The bag is tough. It has to be, to endure all sorts of weather. It appears to be quite waterproof too as we got caught in an unexpected rainfall on the way home one day and none of the items inside got soaked. The bag did take a while to dry off though. It didn't lose shape nor did it feel soggy once it had which is a plus. The bag's pattern is adorable and there are different straps to use with it so it can be used as a handbag as well as on a scooter. This is a big plus as it is very versatile.
The bag also fits all types of scooter so it isn't brand specific. It comes in various colours so can be tailored to match the child. I like the bag and we use it often but...
The minus points: You could invent your own solution for a fraction of the price and it doesn't have a lot of capacity.
Final verdict? I would say it gets 7/10 as it is not an essential but it would make a fab Christmas gift as it has lots of features, looks good and is extremely robust. The price tag does dampen my spirits just a tad though.
Frog Light Strobe By Knog
And now for the Micro Scooter accessory that I'm going to buy my son as a Christmas present. Oh yes, we liked this one that much here at PlayPennies. In fact, we've given it our must buy award.
The Frog Light Strobe by Knog (£9.99) is perfect for these darker months.The range is produced by Knog who are very well respected in this market.
The light body is made from a rubbery material that is waterproof, shockproof and bendy. This makes fitting it much easier. They also come in a variety of funky colours which is fab. To activate the light - a thing that took me a while - you have to take off the battery casing and pull out the silver disc separating the batteries for retail. The battery casing is really clever too. It clips on and off easily and is also sturdy and waterproof.
Once the batteries are touching and ready to go you depress the top of the light to turn it on. The depressing needs only a light touch so little hands cope admirably. This gets very big points for me as it can be quite frustrating for my daughter to constantly ask for help to use things meant for her to enjoy. Here you literally give it a gentle squeeze and voila, you have light!
There are four different modes of light. The first is a steady pulse on off on off. The second is a double pulse on on of on on off. the third is DISCO! The fourth is just a steady ON.
These are fantastic for winter and dark school runs. In fact I give this a Worth Every Penny Award. Under a tenner they are safety conscious, FUN, durable, long lasting and simply awesome. Love it.
Overall verdict: 10/10