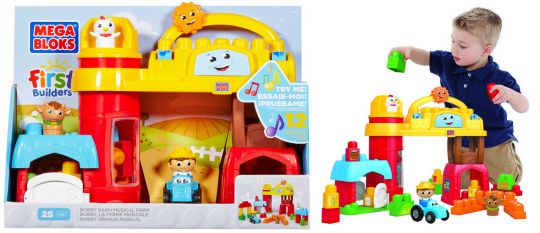 This Mega Bloks First Builders Bobby Barn Musical Farm is reduced at Asda George from £19.97 to just £11.88. Even before this price reduction it was already the best price for this toy by far, as it is Tesco £22, and a massive £33.99 at Argos - and that's on a 'special offer'!
This is a big barn toy, with a silo to store all the blocks, a farmer and lots of farmyard animals, as well as lots of blocks plus stickers to decorate them. The farm even plays different songs and animal noises.
My son has this set and I can say that it is very big for the money, and there's a lot of blocks that come with it. He also enjoys opening and closing all the doors and gates, and as it fits in with all the other First Builders Mega Bloks you can build other farm building for the animals or the farmer too.
This is good enough value to consider buying it now and putting it away for Christmas or Birthdays, as it really does provide a lot of entertainment. You can use the free click and collect service from Asda, or home delivery will add a further £2.95.