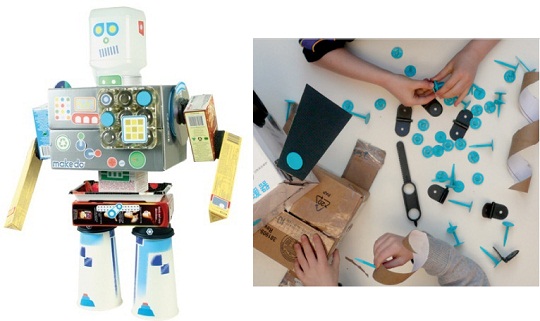 Is there anything better than getting a parcel in the post wrapped up in brown paper and tied with string? That's how the items from MakeDo arrived.
I love making stuff out of things that are around the house. What I lack though is the expertise to know how to do it. Enter the MakeDo system, new to the UK. MakeDo is a connector system that enables materials including cardboard, plastic and fabric to easily join together to form new objects or structures.
The system can also be undone, so you can take it apart and build something new. Kind of like Lego, but without the sharp edges, square shape restrictions, and if Lego bricks were instead everyday objects that people throw away all the time. So nothing like Lego at all then! Other than this is a construction toy.
These connector systems will also come in handy at Christmas, when you're awash with all that packing left over from opening presents. Now the kids can construct their own inventions out of it.
I received the MakeDo Find & Make Robot, and the MakeDo Cup Critter. There's other kits in the Find & Make range - like ones for making cars for example. The range also includes Makedo Freeplay, a tub full of the connectors.
MakeDo Find & Make Robot
The picture on the box of the MakeDo Find & Make Robot (£6.99) looks slick and really impressive. My first thought was there is no way that my son and I will ever match that. My second thought was, that's an awfully small box. I wondered where all the parts were.
Once I read the box, and the information on the website it all came clear. The box contains the construction bits you need to stick everything together and make it look fabulous. The boxes and tubes to be used to make the robot you have to find yourself.
This was a major point in the kit's favour for me. My son loves making all sorts of random things, so I keep a bag of all the paper towel tubes, cereal packets, and boxes for his craft sessions. I'm not good at inspirational ideas though, and while my son is, he is six and lacks the skills to make his creations come to life.
In the box you get 15 re-clips (15 pins and 15 clips), two lock hinges, 1 safe saw, robot inspired stickers, and crucially for me, step by step instructions along with an inspirational poster.
All the packaging looks eco friendly, with the bits in a cardboard tray made of something similar to the stuff eggs come in. All the pieces are made of plastic, including the saw. Which is wide toothed on one side, and small toothed on the other. My son immediately took to some polystyrene packaging we had about and I am still finding  little bits of white stuff all over the living room.
I failed at the first hurdle. Despite the instructions (which I thought were paltry) I couldn't figure out how to make the clips work. My six year old son on the other hand got it in one second. Yeah the pin just goes straight in. There's not actually anything fancy to it. And to get the pin out you just hold and squeeze the connector.
Well that was my lot. I left son and his dad to it. There is now what I am told is a robot on the dining room table, and the connectors do seem to make it a fairly easy job. They're not using the stickers as son thought they looked babyish. But that might be because his idea of a robot is a Transformer, rather than Robbie.
Good perhaps to get you started, this kit did lack the wow factor I'd expect if I was spending seven quid.
Overall verdict: 8/10
MakeDo Cup Critters
Ever thought of doing something with those drinks cups you get hot tea and coffee in? I hadn't but now that I do, it kind of makes sense. After all you could just wash them out once you're done. They are sort of waterproof in that they're made to hold liquid.
With the MakeDo Cup Critters (£3.99) set you get a small drinks cup. In fact, it forms most of the packaging. The cardboard cover on the outside doubles as the instructions, printing on the inside. Brilliant idea. The only plastic is the lid on one of the cups (there are actually two) and the connectors inside the cup.
You get 19 reusuable MakeDo parts with this kit, and these are the clips and pins. Also, there are the body parts for the two animals, which are made of fairly stiff paper. I had a bit of fun with this myself. I've made animals before out of paper cups (a cheap craft as you can get lots for a pound at the poundshop) but this was much easier. No trying to glue anything, or use sticky tape.
The body parts go on using the re-usuable clips. Sadly my bunny has now gone as my son has nicked the clips to use himself to make an accessory for his robot. Something to watch out for perhaps if you are buying these for siblings!
Overall verdict: 10/10

And Finally ...
I thought the prices were pretty good. Although you will have to pay postage if you buy online, delivery is free worldwide if you spend more than $50 Australian dollars. In the UK though the products are stocked in stores such as Selfridges.
I'd probably only buy them though if they were on special offer. Somehow they just don't seem substantial enough to give as birthday presents, and a bit churlish as you're effectively telling the person to go find half their present! The Cup Critters are definitely stocking filler material, especially if you're looking for something craft related to help keep them occupied on Christmas afternoon, or Boxing day.
I think though I am more excited about this gift than my son might be. He loves building things, and this sort of thing gives me what I need to help make really complicated stuff quite easily.