The Lego Friends Rehearsal Stage Review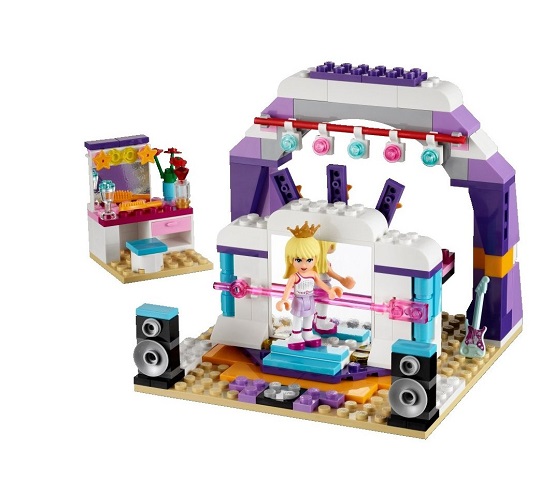 I'm not going to lie. I was kind of boycotting Lego Friends because I absolutely hate gender based toys. The fact that Lego, a toy that I happily played with my entire childhood, now needed pink and long hair to attract more little girls, well, that just upset me.
However, I was given this set – Lego Friends Rehearsal Stage* – as part of the Hobbies series for Lego Friends to review and I had to be fair and neutral. My daughter is six and has, as yet, not shown that much interest in Lego, much to my huge disappointment. I wanted her to be as crazy about it as I was. Nothing doing. So I handed her this Lego Friends kit.
Boom.
That was it. My daughter grabbed the kit from me, disappeared into her room, and I only heard from her again about an hour later when she wanted me to help her with a rather tricky bit. Colour me surprised. This set is brilliant and I am a convert. Even down to the use of flat Lego pieces placed together to create a keyboard, every detail is painstakingly taken care of and managed.
Lego has always been focused on quality of product and making sure that the instructions are clear and easily understandable. This has not changed with Lego Friends. Honestly, I cannot find much wrong here except for the price. As always, Lego is quite steep at £17.99 for this kit. However, when you see how many pieces you get and how much detail there is, you can't really fault the cost.  You even get a few extras in case you lose the fiddly bits.
Overall I have to give this a resounding 9/10. This Lego Friends series has completely captured my daughter's attention and we are both quite keen to grab some of the other sets in the Hobbies series like the Heartlake Pool City. It is also worth noting that I didn't drop the points due to price as you can get plenty of Lego Friends sets for as little as £2.99, like the Squirrel's Tree House or the Hedgehog's Hideaway. It lost points because it still irritates me that every other form of Lego gets a name like Harry Potter or Lord of the Rings, but this stuff goes under Girls. Grrrrrr.