The Lego City Mining Truck Review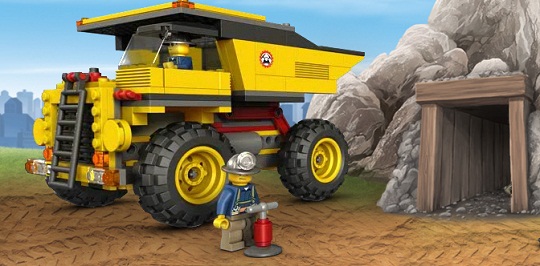 What is one thing that every kid loves to get for Christmas? Lego. It's true, this is one toy that has been around forever and seems to keep on creating fun and funky things to make. I have been a bad parent in that I haven't really done any Lego with my daughter so I went out and got the Lego City Mining Truck set for us to review for the PlayPennies Christmas Gift Guide.
The Lego City Mining Truck comes in a neat little box with all the Lego you need to make the dump truck along with dynamite and a timer, a rock containing gold crystals, nuggets and a miner minifigure. Let me tell you, when I started opening this set I felt just like a kid again I got so excited.
I LOVE the way the Lego box opened too. None of that fussing about with box corners, just push your fingers into the tabs and pull the back of the case off. Ta da! There you have all the kit neatly wrapped in plastic bags and four huge rubber tyres loose in the bottom of the box.
The included pamphlet gives very clear directions on how to assemble the truck, the rocks, the ore and the minifigure. We had such fun doing this. Now it is hard to review Lego based on quality as I have yet to encounter a broken brick or one that doesn't work or fit so on that score the kit gets 10/10.
On the price front it is expensive, but you get so many extras that it is hard to say that it is unreasonably so. Here you get enough Lego to fill three decently sized bags as well as instructions and hours of fun for R19.99. You also get a great online world that your kids can enjoy and see the characters come to life. Overall I have to say that this kit gets 9/10 for quality, quantity, fun factor and general coolness. It loses one paltry point for cost.