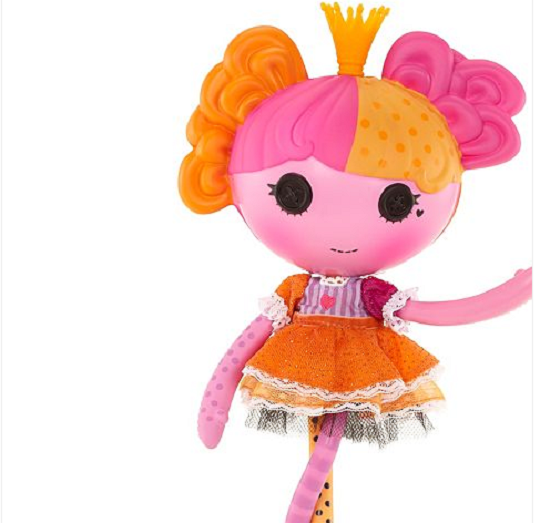 I have to confess that I am a little biased when it comes to the Lala-Oopsies dolls. I have secretly loved them from afar. It seems a bit odd for a grown up to want one of these toys really, but I love their outfits and patchwork styling and their cute little button eyes. So, when the new, new, new Lala-Oopsies doll came along I leapt at the chance to review it.
She is not one of the little dolls you see, she is a big un. And she has quite a few interesting features that make her almost worth the price of £29.99 brand new. The packaging is very well designed with the handle of the box doubling as a book mark. A very nice bookmark, that we accidentally threw away when we tidied up. Don't make that mistake!
There are four adorable characters in the new Lala-Oopsies Princess Ballerinas series and we got Princess Nutmeg who is, by far, the cutest. I love the orange and earth colours in her outfit. The dolls can be held by their crowns and spun around – this doesn't actually work very well as ours needs to be really yanked around and never completes a circle, which is what is implied by the feature list – and have super bendy legs.
Their legs are awesome. You can twist, bend, lift, shape, mould and move them any way you like. However, the tops of the legs on Princess Nutmeg were already fraying after two days of play as they rubbed against the plastic body.
You also get a free pet – this is awesome – and their arms and heads move independently. The head is also soft enough to cuddle while the body is hard plastic. I think that the hardness of the doll is a bit of a down side, and the fraying at the tops of the legs. This drops the points in my view. However, the adorable outfit, cute pet and size make her a winner in the cool toy arena. Would I pay nearly £30? No. I would wait on a deal or two, but as something to find hiding in the garden as a healthy treat this Easter? She is a definite YES. 8/10 for our Lala-Oopsies Princess Ballerina.