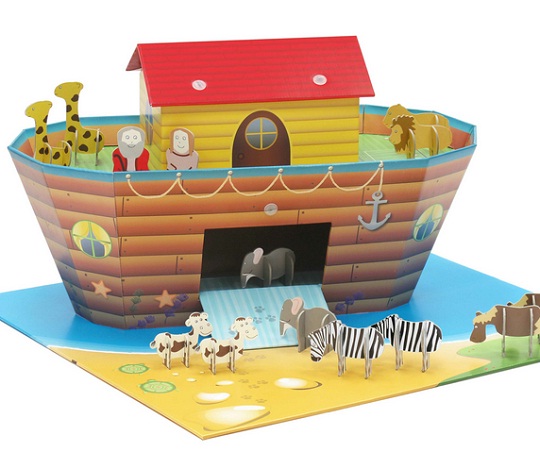 This is one of Amazon's amazing reductions. The Krooom Cardboard Noah's Ark with Animals playset has been reduced to £7.02, down from £24.99. The deal is coming up to the 12 hour mark, so it should be around for the next hour at least. After that who knows?! Delivery is free with Amazon Prime.
This is a fabulous toy. I can say this because I'm looking at one in our lounge as I type this. We also reviewed this toy and another Krooom toy HERE.
The animals don't get played with so much anymore. But the boat itself is the centre of many games, and even makes a great marble run!
This large Noah's Ark set will off toddlers for hours and hours of make-believe fun. It has a mat, the ark itself and a set of 12 animals, it is a perfect play set and would make the perfect present for any little boy or girl.
It is made from durable, high quality, reinforced cardboard with a high gloss lamination finish meaning it's splashproof for the over-zealous toddler. From a practical, every day perspective, this also makes it very easy to wipe clean.
The ark is light weight so is easy to move and store away, yet incrediby strong. Very simple to put together, this product is assembled using a snap together system, so no tools are necessary, and with no sharp edges, it can also be folded flat if required. A simple wipe clean is all that is needed with a damp cloth, and as it is 100% recyclable and made with more than 60% recycled paper it is eco-friendly too, so you are also doing your bit for the environment. Not suitable for children under 3yrs.
Thanks to dudebar at HUKD!