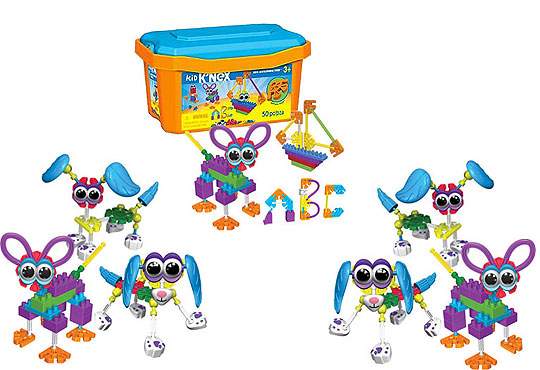 Home Bargains are selling this Knex Big Building Tub of Knex bits and pieces for £7.99 - it's usual full retail price is £20.10.
I haven't seen, or thought about, Knex for y-e-a-r-s - well not since last year, but it was plenty of years before that. My youngest son is almost seven, he inherited his elder brother's bucket loads of Knex bits and pieces and has been happily creating models with it all ever since.
Knex is a building system that uses rods, blocks and connectors - its inventor, Joel Glickman, came up with the idea when he was at a wedding, whilst wondering what he could do with his straw if he connected it to another one (it must have been a boring wedding!).
Hasbro, LEGO and the other toy giants turned down the idea and told Joel it would never take off. TOMY, however, saw the potential and are still having the last laugh as Knex is still netting them a fortune every year - I LOVE stories like this; take THAT Hasbro and LEGO!
This Knex Big Building Tub contains 50 Knex pieces and is suitable for little constructors aged three years and over. There are model building ideas for them to follow, or they can just make things up as they go along and put everything away back in the storage tub when they've finished - I found that was always the most tricky bit!
It doesn't look like you can pop into Home Bargains and collect your Knex Big Building Tub, so home delivery is going to cost between 99 pence and £2.99 depending on whether HBs classify it as small or large parcel.
Happy making this with Knex!