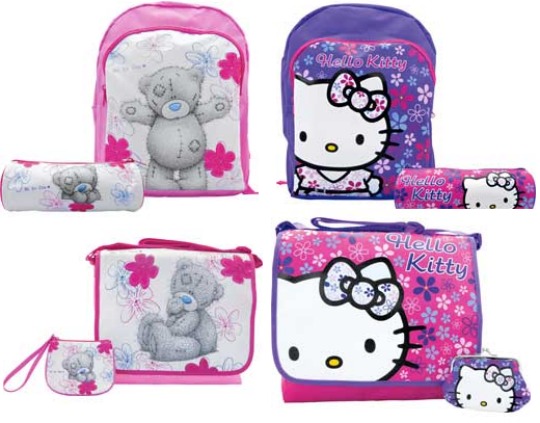 With an original price of £19.99, each set is now just £6.99 and there are 4 to choose from, 2 Hello Kitty and 2 Me to You.
While I'd be loathed to pay £19.99 for a school bag, £6.99 seems a great price considering you get two items. If you're already thinking ahead to after summer and have picked up the 25% plus an extra 10% discount bargain school uniform we blogged from Tesco this week, this could be another item to pick up cheaply now ready for the new term.
The backpacks both come with matching pencil cases, while the messenger/courier bags come with a purse, so not just restricted to school either. I've picked up a couple to put away for those party invites that come in from school friends at the last minute.
All of these can be reserved at Argos by clicking the link and searching for stock near you. This is free, or you can opt for home delivery but there is a charge of £3.95 for this.