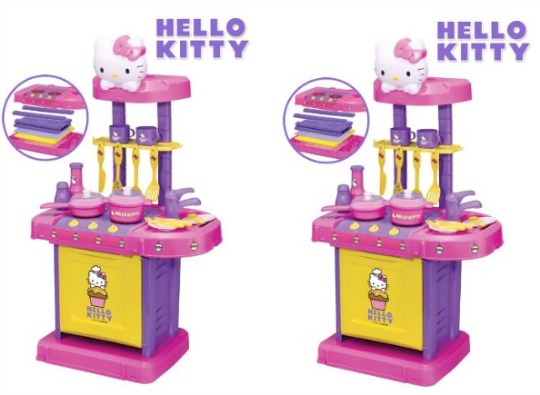 This one's reduced from £19.99 so 40% off. Most importantly it comes with that FREE Super Saver delivery from Amazon.
Lovely looking kitchen for any Hello Kitty fan. It has a sink, hob and oven and includes cooking sound effects to enhance role-play. On that note it requires 3XAA batteries which aren't included. 15 accessories also supplied with this and while it doesn't state what they are exactly over on Amazon, I think the picture gives us enough clues to go on. It can also be packed away for storage when not in use. I'm not a fan of things that are constantly out on display. My daughter had so many bulky toys at that age, there simply wasn't enough room to do that.
Very mixed reviews on this one. Some people felt it was small and some loved it :
I have a small house so little room so this was ideal due to its size, my daughter will love it as she plays with the play kitchen alot at nursery, i also like the fact that it packs away so we can take it to grans or other family houses.
I think that's the thing with kitchens like this really, they state from age 3 due to safety reasons and legislation for the small parts but ideally they're suited to much younger kids. My daughter certainly played with things like this, closely supervised, from a much younger age. These type are also ideal for any outdoor playhouses you might have as they don't take up a whole lot of room.
Hello Kitty is a popular brand, factoring in the accessories and free delivery, I can't see this one staying at this low price for too long, so don't wait around if you like the look of it.