Jumbo Games iPieces For iPad Review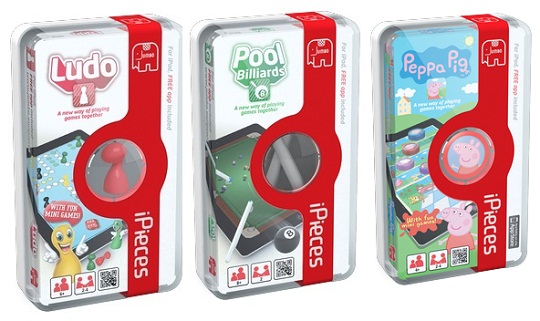 Tablet computers are the newest, and most convenient way to use a computer these days. And top of everyone's wish list is the Apple iPad. In fact, many of your reading this will already have one, or will be getting one for Christmas. And the perfect Christmas gift for someone with an iPad is an iPad accessory! Like the iPieces range from Jumbo Games*, which we're reviewing here today.
If you are an iPad owner (or are going to be) then you already know you're sharing it, or will be, with the kids. I don't mind this so much myself, although I whole heartedly object to them having games consoles. Perhaps because with a console you can only play a game, and unless it is a handheld one, you can't take it with you. On an iPad you can watch movies and TV, do your homework on the internet, and play educational games too (but ssshhh don't tell the kids they're educational!).
Jumbo Games has released for new titles in the iPieces range, specifically for the iPad and iPad2. We got three of these games for review.
Jumbo Games iPieces Ludo
Available for the iPad and the iPad 2, the iPieces Ludo game has an RRP of £9.99. One feature all these game have in common is that they all come in fairly sturdy boxes. Great for packing the little bits away when you don't need them.
iPieces Ludo can be played by two to four players and is recommended for ages 6 and upwards, which surprised me as this is my son's favourite game and he's been playing it since he was 5. I think that many children could easily grasp the concepts of this game at an earlier age.
One difference between this app, and the board game of Ludo, is that there's little 'mini' games as you go around. Although we were playing with seven year olds, I don't think there's much that most younger children couldn't manage with some help.
As well as the app, the box contains 12 'iPieces'. These are the counters you move around the game. The rules are pretty much the same as the board game, although you only use three counters not four. If you're not familiar with that, the objective is to get all three of your counters out onto the board, and around the squares to 'home'. The first to get all three home wins. You can knock other player's counters back to the start, so it can get quite competitive!
The mini-games, animations, and interative aspects of this game were a massive winner with my son. Of course now he doesn't want to play the ordinary board game!
Overall verdict: 9/10.
Jumbo Games iPieces Pool
In the box for the iPieces Pool game you also get 2 'iCues'. Is anyone else getting a little tired of the lower case 'i'? This app/game has an RRP of £9.99 and like the Ludo game is for the iPad or iPad 2.
The recommended age for this game is eight years old and upwards, and it is for two players. You use the cues to hit the on-screen balls. I have to say this is a rather unusual experience, a sort of mix of 2D and 3D. It took me a while to get my head around it, although my son was off and running with it straight away.
I hate pool so in the end I gave it over to my son and husband. He found the size of the screen frustrating, and didn't really enjoy it too much. Any suggestions that it might have been his inability to sink the balls that led to his frustrations were certainly not voiced by me. Not while he was in the room at any rate!
Maybe it was because I am not a fan of the game, or maybe it just isn't meant to be played on a small screen. But apart from testing the game no-one wanted to get it out again apart from my son. This made me question whether it was worth the money if you're looking for family games you can all play on the iPad.
Overall verdict: 6/10
 Jumbo Games iPieces Peppa Pig
For the iPieces Peppa Pig game I had to find a couple of younger players. This game is for players aged 4 and upwards, and can be played with two to four players. It is also suitable for the iPad, iPad 2 and iPad 3. It has an RRP of £12.99.
In the box you get four 'iPieces', or discs. These are the counters you'll use with the game. I did try it out on my seven year old and his friend, but they got embarrassed playing a 'baby' game. Although secretly I think they did really enjoy it, and I know my son would never admit this to any of his friends but he does still like to watch Peppa Pig!
You tap the screen to roll the dice, and you get to play mini-games as you go around. Judging by the shrieks of the two five year old girls playing the game, it is a lot of fun. As an adult it isn't too bad a game to play either, and if you have younger children then I think it would make a great family game.
If you're worried about the effects of any of the pieces in this game, or the others, on the screen of your iPad then I can say they seem to be OK. They're designed not to damage the screen in anyway, and after a lot of use particularly with the Ludo game, no damage has occurred. That said, I probably wouldn't leave them unattended, but then as my iPad is rather expensive I wouldn't leave the kids alone with it anyway.
Overall verdict: 8/10