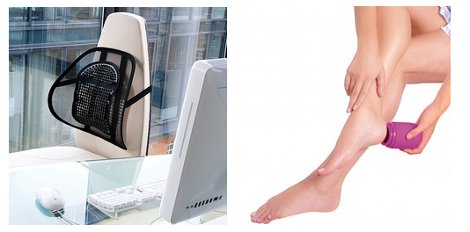 In the early days of motherhood, I spent many an ungodly hour awake watching home shopping channels. Mainly so I wouldn't get 'caught up' in something and could freely switch off and go to sleep when my baby did. I never bought anything from these channels, but did come across many interesting items. But do you ever trust anything that's just entirely amazing and has no negative criticism or independent review?
Well, we received two useful and practical items from JML Direct here at PlayPennies HQ and passed them on to PlayPennies Tracy to try out for us.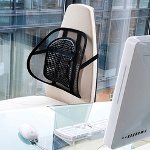 Tracy suffers from back pain and spends a lot of time at her computer and desk. The Sit Right back support, £7.99, is available at ASDA and Boots. It is meant to help improve your posture and give you more comfortable seating, with cooling air circulating.
While I think Sit Right looks a little odd, it's really Tracy's opinion that counts and between her and her decidedly cynical husband, they gave us a very honest review on it.
For Mr.Tracy, it was a no-no. "Sit Right is essentially a strap on support for your back, which give you a nice lumbar control for extended seated periods of time and helps reduce back pain," Tracy tells us. "We both found that it sticks out just a little too far. Your back doesn't touch the seat at all when this is in place and my husband really didn't like it."
Tracy did, however. "I, on the other hand, have gotten quite used to it. At first  it was awkward but after a  few minutes I stopped noticing, really. That says quite a  bit, actually, because with my back, if it had been too sore, painful or uncomfortable, I'd have been aware of it all the time."
Tracy found that her back was a lot straighter too, and feels that the seat helps 'remind her' to sit straight. "This is great because after hurting my back a few weeks ago, I have a tendency to favour my left side and it means I tend to slouch or lean a bit which has a knock-on effect on my entire neck and back."
While not entirely unobtrusive, Tracy was pleased with the Sit Right, and feels that it does work nicely. She especially liked that it could be used comfortably on non-office style chairs, and is really easy to pop on or move to a different chair.
Tracy did agree with me on appearance though. "It doesn't look nice. If you fancy a  chic office, this isn't going to fit in. For me it's fine. I do rate it highly though, because it is easy to use, good quality, and helps with back support and is extremely good value for money."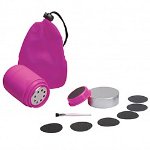 Completely unrelated, the other item we sent Tracy was the Bullet Pedi Pro. Tracy was always a fan of manicures and pedicures, but with work and a child, she just doesn't have the time anymore, and finds that her feet really pay the price.
Tracy regularly uses a manual file on her feet, so she was excited to try the electronic Bullet Pedi Pro, which is £19.99 at Boots.  She liked it, but did consider it something of a luxury item when some manual pedi-systems cost a whole lot less.
There's quite a lot that comes with the Bullet Pedi Pro though:  stainless steel shaving disk for the hard work, a buffing disk to make it all smooth and shiny, a shaving tray for easy cleaning and disposal of dead skin, buffing pads, a carry pouch and a cleaning brush to keep it from getting gunky.
This pedi set comes with two speed settings for tough skin, and while Tracy really liked it, she didn't feel she could give all the credit for the condition of her feet to it.   "I had the same problem with the Bullet Pedi Pro I have with every other pedicure set: I can't stand the way it feels rubbing it against my skin. On the up side, using the electronic system was a lot faster than doing so manually. I still absolutely have to use a thick foot lotion after, and my feet feel great, but how much is down to the Pedi Pro and how much is down to the lotion, I can't honestly say."
Tracy did love that it collected the dead skin, and while she is happy with it and will keep on using it, she does reiterate that it is probably something of a luxury item, or a generous gift.