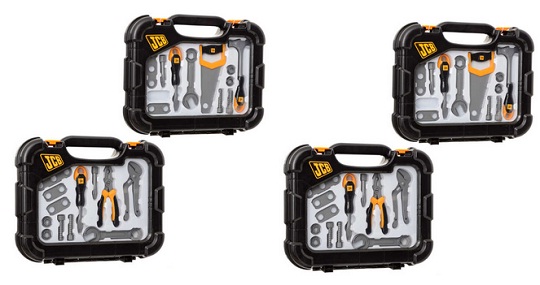 Starting to stockpile for Christmas, or looking for stuff for the present drawer? It doesn't matter either way, if you've got a little DIY fan then this is a really good buy. The JCB Case & Tools has been reduced by The Hut from its RRP of £15.99 to £4.99. Delivery in the UK is free on the site.
This durable, hard, portable JCB tool case contains all the tools JCB Juniors need to get the job done. There's twelve pieces or tools in the case. All the tools pack away neatly into the compact case for tidy away play. I can't quite tell from the case's picture, but it would look like there's a positional within the case for each piece.
If that's the case then this is a great idea - it means you can see at a glance if any of the tools are missing. Always handy when doing the BIG toy tidy away. You know, the one where you go through all the toy boxes, clearing out the broken bits, putting toys back together, putting sets back together, and cleaning out the fluff that has accumulated in the bottom.
The case measures 36cm long, 9cm wide and 31cm heigh. It is recommended for ages three years and upwards.
Thanks to goonertillidie at HUKD!