Home Bargain Valentines Collection Review

Home Bargains has a lovely Valentine's Day gift collection at the moment, and they've sent us a few products to review, and let you know about.
First out the box was was a bag of Heart Shaped Jelly Confectionary for 99p.
They're strawberry flavoured heart shaped jelly sweets, and come in a clear bag. I have a confession to make though: we ate most of them before realising there were no pictures available online.
Fortunately there were two left and I snapped the picture just in time.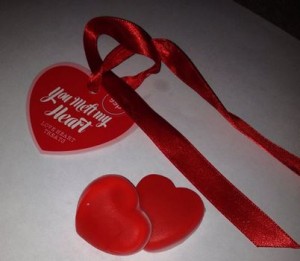 So, as you can see, there are two layers - a jelly top and a foamy bottom. Seriously good flavour, no bad after taste, yum yum yum. Don't consider these for children, school or similar though: they contain E129 and a warning that they could have adverse effects on attention and activity in children.No one needs the drama.
Next up is a Love Me Tender, Love Me Sweet milk chocolate single rose. The 18g chocolate rose comes in a nicely presented see-through tube, which is easy to open.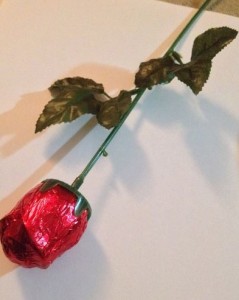 The rose gets taken apart and the stem and base are easily removed, revealing a small, delicately formed, hollow rose. It's quite pretty, even without all the greenery. Flavour-wise, the chocolate is okay. If your intended is a fan of the finer things, this may not be their favourite chocolate. It's more about the novelty, if I'm honest. But it's sweet.
The last food item was an owl biscuit on a stick, with a heart on it's chest. This was equally tasty, crumbly and enjoyable. It's not home-made quality, but then, it's not home made. It's a lovely token gift and again, very sweet - as in cute, rather than overly sugary. The owl is iced with a hard fondant, I think it's called, and it crunches and crumbles, giving you a lovely vanilla flavour. Again, very nice. It's quite a big biscuit too, almost palm-sized, so the fact that it was on a wooden stick is good thinking. Nice and sturdy. 
In our parcel there were also two non-food items, a cushion and an egg-slash-pancake pan, for £1.99 and 99p respectively.
The cushion is really, really, nice. I know it's under £2, but it is fabulous. It's heart shaped, and has the text 'All you need is love' on it, along with a couple of stars on each side. The cushion is nicely stuffed, thick and plush, and the material is oh-so-soft.
It's the perfect cushion for propping up on the sofa, and I suppose you could actually use it for sleeping and so on, but it's probably more for looking at. It's so soft though, you kind of want to! It molds into you and around your head. I am totally impressed by this little pillow, and more so because of the price! If you're doing a gift basket or hamper, it's perfect.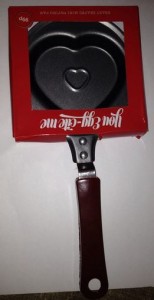 Finally, there's the You Egg-cite me pancake or egg frying pan. It's quite a thin pan and very light. It's small enough to fit into your cupboards without causing a disturbance and it is a fun idea. For a pancake pan you'd do well to have three or four, I think, or to make most of your pancakes the normal way, and a few heart-shaped ones.  Or you'll spend hours in the kitchen. If you're just doing one or two pancakes though, it's fun.  The same for egg - breakfast for two, it's perfect. Breakfast for a family of six? Get a few!
The Egg-cite me egg or pancake pan can't be popped in the dish washer, but it's non-stick, and really easy to clean.
The Good
Each of these products is in the £1 - £3 price bracket, which is a bargain, really. They might not make up your main gift, but they can add to the whole thing, and if you're buying gifts for a range of people - I'm thinking friends and classmates - then it's good for the pocket.
The food items are tasty, though the chocolate isn't to my taste, but over all, it's pretty good.
The Bad
Home Bargains doesn't have an online store so you'll have to go instore to find everything.
The Verdict
I don't have any complaints about the products, and at the price, they'll give you some fun elements to your valentine's day planning. The products aren't particularly unique in the Valentine's Day genre, but they are cheaper than other places, and at the moment, that's a good thing. Enjoy it!