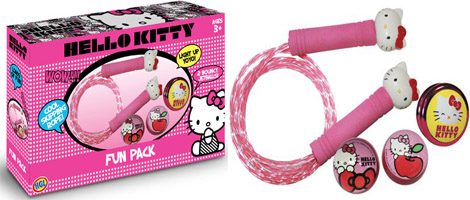 My daughter has recently abandoned Disney Princesses (thank goodness) and moved across to the far more respectable (in my opinion, anyway) Hello Kitty. Down from £9.99 to £6.99 and including free delivery, this Hello Kitty fun pack is a bargain gift from Amazon.
The Hello Kitty boxed set assortment includes a bunch of Hello Kitty branded toys and merchandise that will make any little girl giggle with glee. It's actually quite awesome because you can break up the set and use the different parts as stocking fillers, or just give the whole box away.
Included in the kit are two bouncy Hello Kitty Jet Balls (whatever those are), a Hello Kitty skipping rope and a Hello Kitty light-up yo-yo. The product description is a bit vague because, from what I understand, there are actually more items in the box than just these.
The description says that it "contains assorted Hello Kitty toys, including a skipping rope, jet balls and yo-yo" so I assume there are some ace surprises in there. Not bad for £6.99 all in.
Thanks to goonertillidie at HUKD!