Harry Potter Scene It The Complete Cinematic Journey Game Review
I have a slight confession to make. Now, please don't think less of me but... I have never read any of the Harry Potter books, and I have only seen one of the movies. Shocking I know, and I should probably have to give up my UK citizenship as a result. But it is true.
So when it came to playing the Harry Potter Scene It The Complete Cinematic Journey game (£17.99 at Sainsburys), I wasn't just bad. I was spectacularly awful. But in the process I learnt a lot about the Harry Potter universe, and I had a lot of fun.
I don't want to put anyone off though. This is a game that those with just a passing knowledge of the movies can still do well in. It is just that I was playing a 12 year old boy who is a lifetime Harry Potter fan, and has amazing powers of observation.
If you're not familiar with the Scene It games, the premise is fairly simple. The game comes with a DVD and you answer questions and solve puzzles based on a variety of movie clips.
This particular game is the latest version of the Harry Potter Scene It games and covers all eight movies including both parts of The Deathly Hollows. In fact it covers The Sorcerer's Stone, The Chamber of Secrets, The Prisoner of Azkaban, The Goblet of Fire, The Order of the Phoenix, The Half-Blood Prince, and The Deathly Hallows.
You get a game board, or more specifically a Flextime game board. This is actually quite an impressive idea. The board folds out for longer games, or for a shorter game you fold it in and play on the circle. In the box you also get:
Game DVD
Shuffle Play Feature
4 Themed Tokens
120 Question Cards
12 Charms & Spells Cards
1 Numbered Die / 1 Category Die
Players roll dice and move counters around, as and when they answer questions correctly, pretty much as you do in similar games.
There are also Charms and Spells cards that you can win during the game. With these you can do things like cast a Riddikulus, so that you jump ahead to share a space with another player (provided you're not in the lead).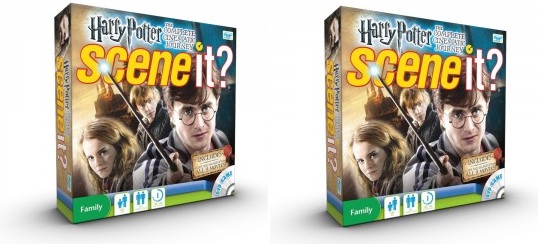 In addition, there is a box of Question Cards. You read a question from these when you get a Question Card Challenge on your roll of the dice.
Overall, like a lot of these games, there's a lot more packaging in the box than there is stuff. I wish they could at least use, say, cardboard instead of plastic.
Up to four players can play this game. I know this because there are four game tokens tucked into the box under the DVD disc. For some strange reason I was actually rather disappointed to find that the tokens are just plastic and not die-cast metal. I think that might be because they're coloured to look like they should be die-cast metal.
When we played, the Sorting Hat - I think I got that right - and the Hogwart's steam train were really popular, while no-one seemed to want the broom or the snitch (maybe if they'd made it gold it would have been more desirable). It caused a bit of an argument and we had to clearly allocate turns among the players (two young lads and their mums).
The game has been available in the UK for about two weeks now, and a little longer in the US. Over there it seems to have got very good reviews, for much the same reasons that we liked the game.
The Good
A reasonably challenging level of play, interesting movie clips (actually from the movies), excellent variety of challenges and questions
The Bad
You do really need to be a Harry Potter fan to get the most out this game, disappointingly plastic tokens.
The Verdict
With the movie clips, and two lengths of game to play, a good game to have around the house for rainy days, and holidays like Christmas. You do need to have seen more than one of the movies though.