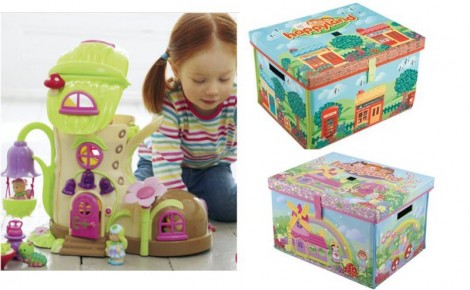 Well that's a mouthful of a title, isn't it, but that's because this is the time to stock up on every Happyland set you've ever wanted. See, there's buy one get one free – effectively 50% off if you buy two of the same  price – Happyland at both ELC and Mothercare, but then Mothercare have 20% off with the code: BA8M too.
So, why  give you two deals? Well, because not everything is available at both. For example, I've always loved the HappyLand Fairyland Bluebell Boot which is £38 at ELC, but isn't included in the offer at  Mothercare.
Others, such as the HappyLand playaway set is £20 at both, but at Mothercare you can use that code above and get 20% off, making  it £16.
There doesn't seem to be much price difference between the items they do both offer, so really it's going to come down to postage. ELC gives you free delivery over £50 now, and Mothecare still has that same offer with postage costing you £4.95 at either, so if you're able to pick up in store that's your real winner.
Happy shopping for Happyland!
Thanks to mamof2 and maddie_moo @ HUKD