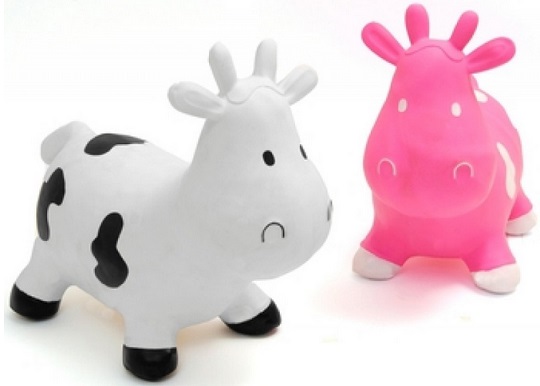 There are some things that make me very happy. And friendly looking children's toys are one of them.  Right now the most irresistible thing on earth is the Happy Hopperz Pink Bouncy Cow (£21.99). I mean just look at that face!
It possibly helps that I love space hoppers as well, and the principle here is something similar. A bouncy toy that toddlers can bump up an down on. So, is it as much fun as it looks? Or yet another big bit of plastic to clog up what little floor space you have left? Read the rest of the review to find out!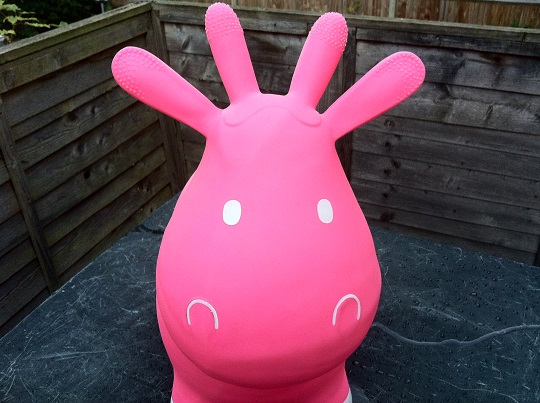 The Bouncy Cow is one of several different types of bouncy animal you can buy from Hopperz. I can't comment on any of those however as I haven't tried them.
The first thing that struck me about the Bouncy Cow is that it is actually a rather deep pink, which I like. Rather than the bright pink it looks in photos. So don't let that put you off.
The four legs on the cow sort of splay out, making it really sturdy. We had a two year old toddler and her baby sister who is just starting to pull herself up come around for a play. The baby was able to clamber over it quite well without it toppling over. And even if it does go over it sort of rolls and is sturdy enough for the baby to roll with it. Which is quite a bit of fun on its own.
The toddler went a bit nuts on the cow to start with, in that totally hyper way that three year olds have. You grab the 'horns' to bounce the cow. It isn't really bouncy in a space hopper sort of way, but it is still fun for a little one to 'gallop around'. It also makes quite a nice sort of seat.
There's no plasticky smell to the cow, which I was kind of expecting given how it is made of quite thick PVC. Or it feels quite thick. Our cow was inflated when it arrived and has stayed that way.
The baby liked using the cow for cruising as well as pulling herself up, and the ears took a lot of gumming!
It should be noted that the toy is marked as suitable from 12 months plus. This is a hard one to enforce though if you've a baby with an older child - how do you keep them away from absolutely all their toys?
The Hopperz come in four sizes, from Small for 12 months plus, up to XL for 3 and 4 year olds. The Bouncy Cow is in the Small category, which is about right for a small sized toddler like our tester but I think she will soon grow out of it.  There's nothing chokable on the cow, and while our 9 month old tester was officially too young, I think this was a better age to get the most out of the toy.
She might not be able to bounce on it yet but she absolutely adored using the cow to pull her self up, and walk around.
Pros: friendly toy, robust, fun
Cons: small especially if you have a large one year old
Overall verdict: 8 / 10