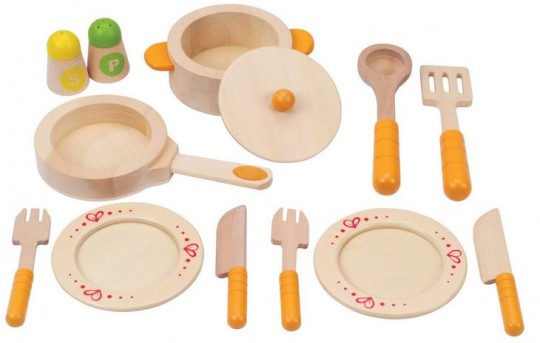 The Hape E3103 Gourmet Kitchen Starter Set is £17.10 at Amazon, which is only 10% less than the RRP of £17.55. However, the next best in-stock price for them seems to be £26.94 from Kiddicare (including delivery), so Amazon's price is still the best, even with only 10% off. 
My daughters love playing in the play kitchen and they love copying what my husband and I do in the kitchen.
According to the Montessori schooling system, play kitchens are part of learning about every day life, and it's so true! They really do learn so much from it!
This Gourmet Kitchen Starter Set by Hape is a cookware, dinner and cutlery set in natural wood with orange water-based paint - the perfect toy set for getting a young chef started. It also comes with a salt and pepper shaker set and tea towel to make this a complete kitchen starter set for little chefs.
Happy pretend eating!