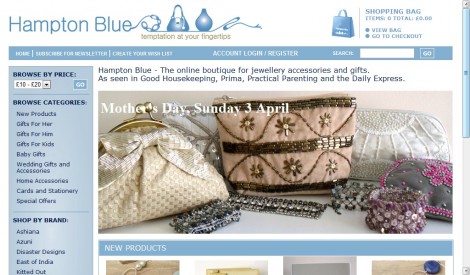 I hope this is helpful for someone. The other day I found a couple of really lovely little items that may make quite nice presents. It seemed relevant for this time of the year, having just grappled with Mother's Day and being in the middle of what I call the 'birthday season'. It seems like everyone in my family, and most of my friends have birthdays in April.
Both items come from a site called Hampton Blue.
Hampton Blue is a small business run by two sisters. They specialise in finding and selling accessories and gifts, which are that little bit different. The company tries to source Fairtrade items where ever possible.
I was quite impressed with the presentation when the items arrived, as both were wrapped nicely in tissue paper. All purchases from Hampton Blue are wrapped in blue tissue paper or come in a blue organza bag, with a Hampton Blue label attached.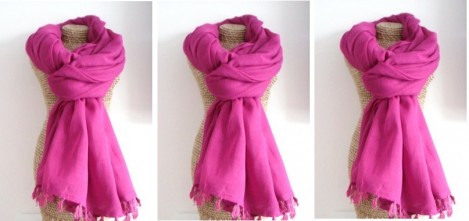 We've already had a few warm spring evenings, and I am hoping that will be a sign of things to come. It is only fair that we get a good summer after that winter, surely? With that in mind, a wrap like this Fuchsia Cotton Scarf could be rather lovely. It is 100% cotton, and made in India. The scarf is lovely and soft, and has a small fringe along one edge. The scarf is on sale at the moment, for £8. It is normally £10.
An alternative sort of gift, especially for Mother's Day, is the Purple Sari Journal. This is simply gorgeous. I may be biased as it is completely my sort of thing. I am a total sucker for stationary, and I love purple. I obsessively write lists down, and take notes. And I find there's something so incredibly satisfying about closing a notebook shut with an elastic band around a button. But maybe that's just me!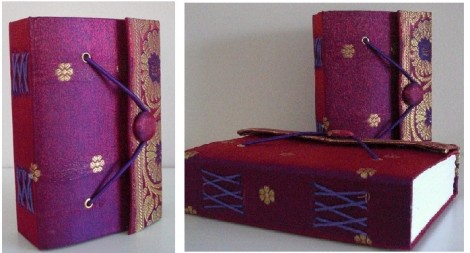 This notebook has a fabric cover - this might be the sari of the product name. It doesn't make this clear on the website. There's 125 pages made of handmade paper inside. And a little note to let you know that "this handmade product is made by a small family run business in India. The paper, Khadda, is made from 100 percent recycled cotton left over from the massive garment industry."
The small version of the notebook, which I received, costs £6.95. What I like about it is that it is a girl's gift, without being girly, and not too mumsy. As much as I love getting the handmade flowers and cards, it is also rather nice to get something that's for me to use!