Hammer And Balls Lorry £13.77 @ Handpicked Collection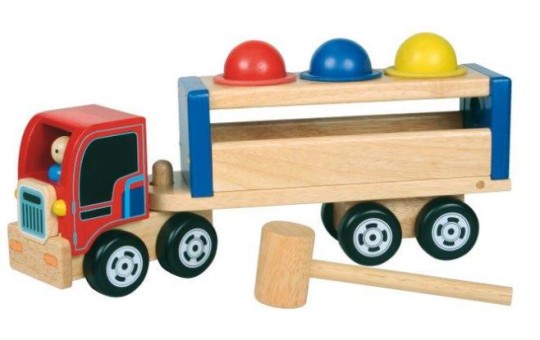 Handpicked Collection is one of those shops that you browse and leave wishing you were very wealthy, because you'd pretty much want one of everything. In their current clearance sale, they make that goal somewhat easier with plenty of beautiful things on sale. One of those is the rather unusual Hammer and Balls Lorry, reduced from £22.95 to £13.77. 
I love toys that are multi functional, not only because I like value for money, but because they are space saving and good for the environment too - better to have, store and use one thing than two things, right? Well, my kids have these hammer and ball toys - two of the accursed things, in fact  (I don't like noisy toys) but while they will play with them for a few minutes from time to time, they move on once the novelty has worn off - which is something I really like about this Lorry: when it's not being bashed, it can be used as a toy too.
The wooden lorry comes with three balls and a mallet, and can be driven around with turning wheels.
Delivery is £4.95 in 3 - 5 days, unless you spend £75 then it's free.