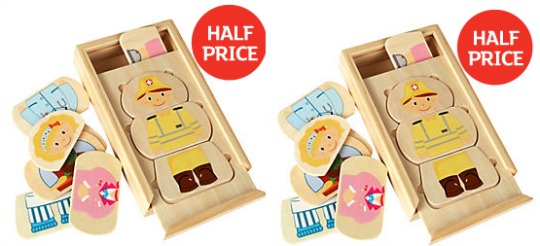 Sainsburys have halved the price of the Grow & Play Misfits puzzle, making it just £2.49. Wooden puzzles are always popular with young ones and with the 50% off on this one it's a no brainer.
The Grow & Play Misfits puzzle looks like lots of fun. It is comprised of twenty four wooden pieces. There's eight different characters to put together and if you fancy a giggle you can muddle them all up so that the fireman is wearing a dress etc.
This wooden puzzle toy is suitable from the age of one and a half age and will is a good introduction into the world of puzzles and problem solving. Activities like this help strengthen your child's concentration skills and they are fun to play together.
The Grow & Play Misfits puzzle comes in a lovely wooden crafted box and this will make a game in itself fitting all of the pieces back in.  Since it comes so nicely packaged I think it would make a terrific gift for someone.
You can collect the Grow & Play Misfits puzzle from for free from your local Sainsburys store if you spend over £15 or you can have it delivered for £3.95.