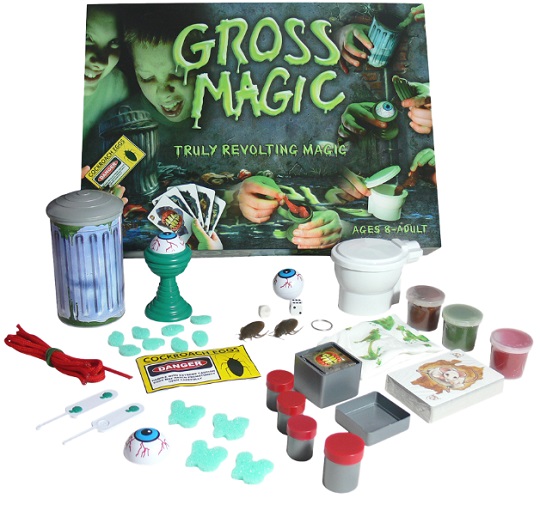 They're gross and they're magic tricks. Is there any need to know any more? I was pretty excited to get a copy of Gross Magic to review as I had the perfect reviewer. My 8 year old godson who absolutely loves magic with a passion, and also has a love of all things horrible and nasty. Horrible Histories go down well in his house, as does Halloween!
So I gave this to him a few weeks ago. Read on to find out how it went!
The Gross Magic kit costs £19.99, and is made by Drumond Park. What you get is a very large box packed full of props for the magic tricks. It does say that some household items might be required. If your young magician likes doing magic, then this has a bit of a twist to it. Tricks use a somewhat different class of prop: snot, slime, dandruff, toenail clippings, cockroaches, squashed eyeballs, and even - wait for it - a toilet full of poo.
At 8 years old, my godson is right at the bottom age for this kit. It is recommended for 8 years and upwards. But he's being playing with magic kits since he was 6, and is very adept at reading instructions and working things out for himself. In fact he prefers it.
However, the instructions weren't clear enough for even an advanced young child to follow. I'd say that for 11 years and upwards it might be doable, but for this age you're going to have to help. A lot.
It isn't  that great a kit for children who really like magic either. The tricks aren't really...well they're not that doable as tricks. They're gross, and they are hysterically funny in parts. The toilet poo was a big hit. But in terms of actual magical pretence this rates a bit low.
I wasn't that impressed either with the amount 'gross' stuff you get - there's a couple of pots of slime to use, and these can get grubby quick. Also, despite being a big box, the packaging isn't that sturdy. It was clear it would last too many openings, and given that there's a lot to get through in here I'd have liked it to be better designed for storage.
You do get a good amount of tricks to do for the money. We've had this over a month now, and still only done about half the tricks. That said, well, let's just say it isn't the toy my godson asks to play with the most.
If your youngster likes messy play, doing silly things, and having a bit of a laugh, then this kit will definitely do the trick on a rainy day. Keep in mind that you will have to help them if they're a bit younger.
However, I can't recommend this kit for youngsters who like magic, no matter how much they like the gross stuff. My godson's mother would also like me to point out, again, the size of the box and the fact that you will need to store it.
Pros: messy, silly fun
Cons: not good as a magic kit, a bit tatty, not a lot of the 'gross' ingredients
Overall verdict: 4 / 10