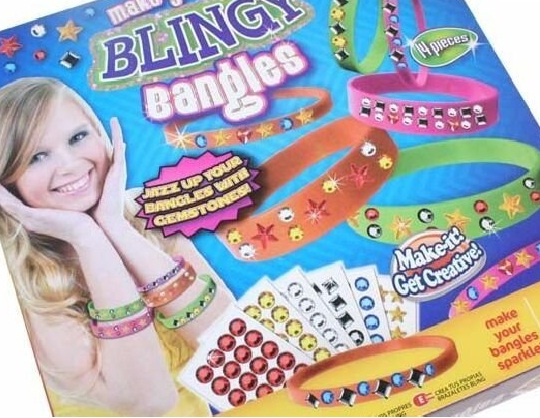 What I like about the Grafix Bangle Decoration Kit, apart from Amazon reducing it to £5 from £8, is that it also comes with free, super saver UK delivery. So £5 is all you pay to get this delivered to your door.
With this kit you can have loads of fun making up your own blingy bangles. Tasteful blingy bangles of course! Young teen and pre teen's alike will have fun with this. I bet they especially like making up bangle designs for their friends. I mentioned this to a friend of mine who has a 9 year old daughter, and she immediately bought four of them as the activity for her birthday sleepover at the end of the month.
I think this would make a fabulous stocking filler too, and an addition for the present drawer. Stones and gems are included, and according to the website, they're meant to be easy to get started.
In the box you get:
8 x Bangles:
2 x Large
2 x Medium
4 x Small
4 x Sheets of Gems
This set of Create Your Own Blingy Bangles could get their design and creative juices flowing too. Looking at it, there's no reason why they couldn't, once they've got started, apply the same decorating techniques using other items too. I am forever getting those rubbery wristbands, for example, whenever we go to an event. Turn it inside out, and you could glue on all sorts of sparkly stuff.