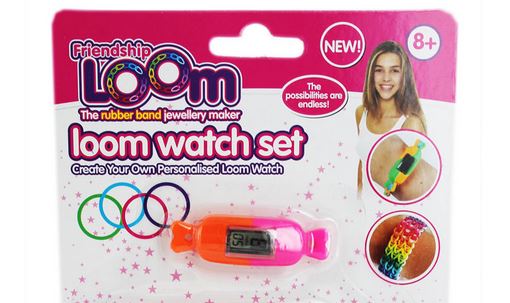 Will the Loom Band add-ons ever end? Let's hope not, since they keep the kids enthralled! The Works is selling a Friendship Loom Watch Set for £2.99 and with the code below, delivery is free, making it an extra bonus, with a £3.99 saving there.
Add a useful dimension to your loom bands with this kit from The Works*
Discount: Free Delivery worth £3.99
Expires: 15 June 2014
Promotion Code: FDJune
To use this code, go to the Shopping Basket page and enter it in the Promotion Code box. Your basket will be automatically updated.
In the kit you'll receive a watch face that can be threaded in with the 300 multi-coloured bands, as well as 12 S-clasps and a knotting tool. I'm sure the Loom Band fans will love this! There seem to be three different colour watch faces that you could receive, but I can't see a way to choose the colour you want so it's going to be a bit lucky dip, I think. They're all pretty funky, though, so I don't think it'll matter too much.
You can find lots of promotional codes in our vouchers section, as well as all the promotion codes for The Works.