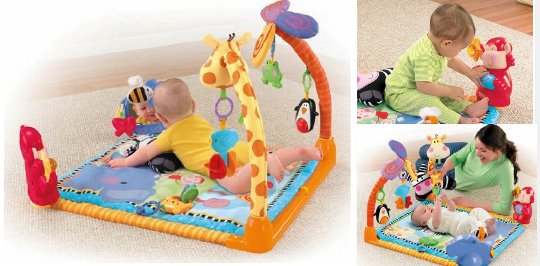 The Fisher-Price Discover and Grow Open Top Musical Discovery Gym at Amazon is currently £38.09 instead of £49.99, which constitutes a 24% saving.
I love that 'open-top gym'! It sounds so summery and luxurious. I can just imagine a view over the ocean while you're working out. Alas, this is not that.
This is a baby play gym with bits and pieces in four corners rather than a full top arch, which makes it quite unusual and rather interesting.
The first thing I thought with this was that it would be easier to get baby in and out – or in this case on and off – the play mat, which is very useful.
There are linking toys which can be changed and moved around as baby grows. With 10 activities – including a friendly giraffe, palm tree, elephant mirror, bouncing bee, a musical kick-at monkey, a zebra pillow and light-up pinwheel  - and 20 minutes of music, this playgym supports the ever essential tummy time and helps provide auditory and visual stimulation.
The mat is also machine washable and suitable for babies up to around 18 months.